Great American Ball Park Parking – Three Smart Choices
Posted by Kurt Smith
There isn't any shortage of close and convenient Great American Ball Park parking…the home of the Reds is among the easiest to reach by automobile. I've looked into this quite a bit, and I have my three favorite spots, each very affordable and with its own advantages:
Great American Ball Park Parking, Part 1: Park early at the ballpark and make a day of Cincinnati. The Broadway and a couple of other lots are literally right there at the ballpark, but they don't start charging the game rate until later in the day, so if you're early enough you can park there for the day for a fraction of the event cost. And now with the new and inexpensive Cincinnati streetcar, you can very cheaply visit some great local attractions like Findlay Market. (Belgian waffles!)
(continued below)
Own the Ultimate Insider Fan's Guide to Great American Ball Park TODAY…
for just $4.99!

Click the image to learn more!

Great American Ball Park Parking, Part 2: Park in Newport, KY. The Newport-On-The-Levee garage is cheap, and it's near a full-blown entertainment center with everything from a movie theater and an aquarium and lots of great eateries. And multiple ways to get to the ballpark…you can take a lengthy but scenic stroll across the Purple People Bridge, or use the inexpensive Southbank Shuttle to GABP's front door…or even take a boat from the waterfront restaurants. Great if you're bringing the kids or impressing a date.
Great American Ball Park Parking, Part 3: Park in Covington, KY. Covington is nowhere near the entertainment destination that Newport is, but this can be a good thing…it's more than simple enough to find a free spot, either near the Roebling Bridge for another scenic walk (and not as lengthy as the walk from Newport) or a Southbank Shuttle station for a cheap ride. There are some nice watering holes with outdoor dining here, like the Keystone Bar & Grill…which will give you shuttle tokens with their outstanding mac and cheese.
There's three great options for different tastes in getting to Great American, and I hope you find them useful. But there are lots of great ways to get to the home of the Reds…plan the best route for you and your group with this handy little guide!
More About Great American Ball Park:
Visiting Great American Ball Park – Five Tips For Newbies
Why Great American Ball Park Is Underrated
Three Foods To Try at Great American Ball Park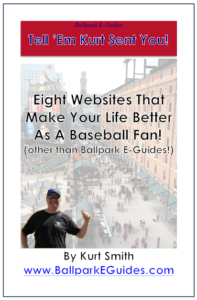 FREE eBook for traveling baseball fans! (That would be you.)

Do you love to visit ballparks and see live baseball? Subscribe to the Ballpark E-Guides e-mail newsletter today, and fill your scorecard with useful and entertaining info about your favorite ballparks, money-saving "tips of the week" for frugal fans, and of course, specials on the incredibly informative Ballpark E-Guides!
You'll also score this eBook, listing some of Kurt's favorite sites for traveling baseball fans, absolutely free of charge…just for stepping up to the plate and subscribing.
Get on base without swinging the bat…sign up today!
Want to save money on baseball tickets, parking and everything else?
If you go to baseball games, you're going to spend money…on tickets, parking, food and souvenirs, not to mention hotels and travel expenses if you're going on a baseball road trip.
I'm here to help…check out my Fan Resources page, where I share some of my favorite recommendations for buying tickets, booking baseball parking and saving on travel expenses.
Legal bit: My Fan Resources page contains affiliate links, so you can support this great website while making smart baseball decisions!