What's New at the Ballparks 2017 – National League
Posted by Kurt Smith
I haven't yet had an opportunity to get all the E-Guides up to speed with the changes for 2017 (I will as soon as I can), but I've listed everything new for National League ballparks described by Ballpark E-Guides:
Chicago Cubs – Wrigley Field:
Well, obviously, the most celebrated change at Wrigley Field will be the 2016 Championship flag, which has been hoisted and now flies triumphantly over the Friendly Confines.
But there's some other new stuff too…
The Plaza at Wrigley (I'm sure it will have a corporate name at some point) is now open to fans with tickets on game days; the Cubs wanted it open to everyone but couldn't get Chicago to agree. The big space open two hours before the first pitch and will feature food and drink sales and the game being broadcast on the big video board.
The bullpens have been moved to underneath the bleachers, so unfortunately fans won't be able to heckle the other team's relief guys. The Cubs have added new seating down the lines.
If you're parking on the street at Wrigley this year, be prepared for a price hike; meter rates during games have doubled and are now $4 per hour, enough to almost make it not worth the trouble. (Consult this for better transportation to Wrigley choices.)
There's a new Jim Beam Patio…well, it's not actually new, it's just the former Jack Daniel's patio…it's the upper concourse space behind home plate with a nice view of Wrigleyville but none of the game. The deck will serve drinks made with Jim Beam and related brands like Hornitos.
As far as new food, the coolest addition is Pork & Mindy's, a Wicker Park BBQ joint known for top notch BBQ sandwiches like buffalo chicken with gorgonzola and ranch, and a pulled pork sandwich with bacon bites on a bao bun. Pork & Mindy's will be in the bleachers, but the bao sandwich will be sold at Marquee Classics behind home plate.
Also in the bleachers at the Sheffield Counter you can get hot dogs with pork bellies, pickled ginger aioli and kimchi. True. There is now a Bao Wao dog with pickled daikon and carrots, sriracha aioli and cilantro. You can also get a grilled cheese sandwich with two different cheeses, smoked brisket and caramelized onions; or a healthier grilled chicken sandwich with chili glaze, Asian slaw and sautéed pineapple.
Want to learn more about Wrigley Field? Click here.
Cincinnati Reds – Great American Ball Park:
The big news in Cincinnati is the newest effort to reduce food lines…you can now order your food through the Ballpark app and pick it up in a locker-style compartment. You scan the code and the door opens for you with your food. Nice. No more of those friendly interactions with cashiers.
The Scouts Alley is now the Scouts Club, and the exclusive indoor area behind the Scout seats has been renovated, with a new full bar and a new grab and go food area that includes the Laura's Lean Gusher Burger. Fans can see real time stats on touchscreen displays, just like the scouts do.
There is a new party suite called the Jack Casino super suite on the third base side; it holds your group of 30-40 and is actually on the field level. The Frontgate suite on the third base side has a new bar and a buffet.
The coolest new food addition is a seemingly obvious idea for a ballpark snack…Cheetos popcorn! They even have a tumbler to mix the two snacks. Kudos to the exec at Frito-Lay that thought of that one…
The Fry Box has a new buffalo chicken baked potato, and the Porkopolis stands have some unusual new dogs like a Gator Dog and a Reuben Dog.
The Reds have also added the fan favorite mac and cheese dishes from Covington, KY based Keystone Bar & Grill at the food bars; and longtime Cincinnati favorite Graeter's gourmet ice cream is finally available at the ballpark. Couldn't happen soon enough.
Want to know more about Great American Ball Park? Click here.
Milwaukee Brewers – Miller Park:
The Brewers uprooted their confusing concession stand arrangement and beautified the food ordering at Miller Park. The new First Base Ward and Third Base Ward feature 11 new concession stands, but more importantly there is now a "Local Brews" stand that features 24 beers brewed exclusively in Wisconsin. That will go well with the two full service bars offering MillerCoors products.
There is also a new full bar in the parking lot for that tailgating crowd. The Brew Crew Bar will have nice couches and tables with chairs, full bars with beer and mixed drinks, outdoor heaters and tailgate games. It will be available for most weekend contests.
The most notable food choice is the addition of Zaffiro's pizza, which a Facebook follower of Ballpark E-Guides tells me is the best thin crust pizza in Milwaukee. As far as I know it's plain and pepperoni at the moment; I'll update this if I hear otherwise. There's also J. Agave's tacos…with roasted mushroom and sweet corn, chipotle chicken or carne asada, and there are some new offerings at the Smoke Shack and at AJ Bombers, like Milwaukee burgers and pulled pork sandwiches. Klement's will be bringing all natural sausages at some stands this year.
Finally, you can get mac and cheese at Miller this year…in flavors like chorizo and pico de gallo, roasted mushroom and onion, or smoked bacon.
Want to know more about Miller Park? Click here.
New York Mets – Citi Field:
Most changes to Citi Field have been already added to the Citi Field E-Guide, but just for grins, here's a bit about the new food…
A Nicoletta stand has been added to the already amazing selection of food in the center field food court; Nicoletta will compliment Papa Rosso's pizza with signature meatball sandwiches and Stromboli roll-ups and chicken parm sandwiches.
Pressed by Josh Capon unfortunately is no more; but in its place is a new alternative to those Shake Shack lines…the Bash Burger! Josh Capon's burger and barrel patty is a six-time winner at the NYC Wine and Food Festival, so it's no slouch. It's topped with bacon, caramelized onion jam, pickles, American cheese and special sauce. You can get it topped with other stuff too.
A new and popular addition has been added to the food choices at the Promenade Club: DO. (It's supposed to have a flat line over the "O" but I can't find that on my keyboard.) It's a Greenwich Village based cookie dough joint that makes egg-free and safe-to-eat cookie dough good enough to have lines outside for hours. At the Mets game though, the line should only last about an inning. Well worth a few extra bucks for Promenade Club access.
Want to know more about Citi Field? Click here.
Philadelphia Phillies – Citizens Bank Park:
Some might disagree with me on this, but the best move the Phillies made in the offseason was the addition of Primo Hoagies to Citizens Bank Park. Primo is a local chain of hoagie shops that are very popular in the area and with good reason…and they are, in this writer's opinion, superior to the recently departed Planet Hoagie. A Philly ballpark needs a hoagie stand, and Primo gets it done. You can get an Italian or chicken cutlet hoagie or a meatball sandwich here.
There are other decent food additions too; but first let me mention that similar to the new order and pick up option in Cincinnati, the Phils now offer the option of ordering kiosks…place your order, swipe your credit card and bring your receipt to the pickup area. Not sure if the lines at the kiosks will make it pointless, but there it is.
Anyway, more cool food, first at the restaurant: Harry The K's now has a "Farmer's Market Grain Bowl", with toasted red quinoa, brown rice, sweet peppers, cucumbers, radish and baby herbs, and a falafel sandwich on pita bread with lettuce, cucumber, peppers, tomatoes, and…get this…sesame mint yogurt sauce. Yes, a baseball exec thought of that. But no fear, you can also get a pastrami sausage with bacon, red cabbage and tarragon mustard.
Out on the concourses are some other neat grub stuffs…the new Mac Shack is Philly's new addition to the essential comfort food of mac and cheese (which seems to be becoming a mandatory offering at the ballpark). Customize your own mac and cheese toppings. Bull's BBQ has a new pulled chicken sandwich, and Signature Dogs Has a new Jersey Shore Dog with pork roll and American cheese sauce, and a new mac and cheese dog for the carb-deficient.
Oh, almost forgot the best new side…the South Philly Shareable Stak! It's boardwalk fries topped with roast pork, sharp provolone, cherry pepper aioli and chopped long hots. Bring some Tums for that one.
And you can now get Topps trading cards of Incredible Eats at the ballpark, including the South Philly Dog. Check it out in the Clubhouse store.
Want to know more about Citizens Bank Park? Click here.
Pittsburgh Pirates – PNC Park:
Did you know there's a new Racing Pierogi? Pizza Penny has been added to the Great Pierogi Race N'at that happens every home game at PNC Park. The coolest thing about this, of course, is that Mrs. T makes pizza pierogies! I didn't know that. Wonder how Mr. T feels about it.
Anyway, the Pirates have made some club suite renovations, and now fans can sit in rotating office chairs with wheels while enjoying the exclusive club food options. The Pirates have renamed a standing pavilion the "Crow's Nest". No biggie there.
Fans can appreciate two new things about alcohol consumption at PNC Park. The first is that you can now leave the Skull Bar with your mixed drink, which you couldn't do previously due to PA laws. The second is that the favorite beer among locals…Iron City…is featured at the Skull Bar. If you've never had an Iron City, get one…it will sharpen your beer palate.
New food items are mostly in Club 3000 and in the Rivertowne Hall of Fame Club:
Club 3000 now has rotating carved meat sandwiches from executive chef Adam Holt that change with each homestand. The Club now has safe-to-eat raw cookie dough too.
The Hall of Fame Club, as they do every season, has added neat new stuff to the menu, like kielbasa sliders with pepper jack cheese, stone ground mustard and caramelized onions. They also have some cool new vegetarian and vegan options, like vegan burgers, and Buffalo cauliflower. You can get a toasted tofu sandwich at Just4U.
PNC Park now features Isaly's ice cream; I don't know if that's the official provider or not. Or try the new House BURGHer Stak…boardwalk fries with seasoned ground beef, cheese, grilled onions, secret sauce, tomatoes and lettuce…topped with a brioche bun. And finally, the brazed Kielbasa Reuben is kielbasa with sauerkraut, Swiss cheese and house sauce on thick cut marble rye. Gotta love Pittsburgh sandwiches.
Want to know more about PNC Park? Click here.
Washington Nationals – Nationals Park:
In a ballpark with plenty of high end seats, the Nats now cater to that fan that will pay a stiff price to sit next to players in the dugout. The new MGM National Harbor Dugout Club is eight luxury seats…and when I say luxury seats, I mean practically recliners…on the first base side next to the Nationals' dugout. They'll have private bathrooms, a private entrance, and a personal attendant. But these seats are only available through MGM National Harbor. Enjoy.
Other than that the only big changes are food-related, but that's okay…
Shawafel in the left field corner is gone (no big loss, in this writer's respectful opinion), replaced by a tater tot and chicken wing stand called "See. You. Tater.", a spoof on Nats announcer Bob Carpenter's home run call. They have several varieties of chicken wings, like sweet and spicy BBQ, lemon garlic butter, Old Bay, or mango Caribbean jerk. Or get tater tots with BBQ sauce and mac and cheese, crab queso and crab meat, buffalo chicken, or pork belly, pickled cucumbers and onions. This last is called the "Intentional Wok", not to be confused with the former Asian food stand.
The popular babka ice cream sandwiches from On Rye on the club level will now be available on the concourse level, along with two ice cream push pops in cool flavors like bourbon and cinnamon.
Other new food stuffs include an Italian sausage burger, Thai chicken skewers over jasmine rice and a chicken fried steak biscuit at Virginia Country Kitchen. The Bud Brew House in center field now has chicken and waffles and some new vegetarian options.
Finally, for those discriminating D.C. beer drinkers, there are some new choices…the District Drafts kiosks now has rotating "guest taps" with a different local brew on tap for each homestand. There's a new Devil's Backbone Brewing stand with beers from the local brand that includes a new "Earned Run Ale" with a slightly smaller alcohol content. (?)
Or if you want a mixed drink, stop at "Rum Runners" or "Distillers of the DMV" for classic cocktails with liquor made from rotating local distilleries. Get a red (for the Nats, silly) mojito with strawberries and cheer on the 2017 NL East champs with your newly improved mood.
Want to know more about Nationals Park? Click here.
That's it for now…if you want to read what's new in American League ballparks click here. Thanks for reading!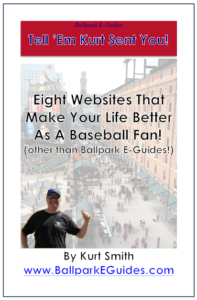 Enjoy this article? If you'd like more cool ballpark insider stuff in your inbox, sign up for the Ballpark E-Guides e-mail newsletter today…and get useful and entertaining articles about visiting your favorite ballparks, a helpful and money-saving "tip of the week", and an absolutely free PDF for traveling baseball fans…"Tell 'Em Kurt Sent You!"
Find out how to get the best live baseball experience at the best price…sign up today!