What's New at the Ballparks 2017 – American League
Posted by Kurt Smith
Since I have not yet been able to get all of the E-Guides up to date as of this writing (I will as soon as I can), here's a list of the changes in the American League ballparks (covered by Ballpark E-Guides) for 2017:
Baltimore Orioles – Camden Yards:
Other than putting in some new sod and creating a 25th Anniversary of Camden Yards patch, the only significant changes to Oriole Park are in the food offerings…and even those are mostly just new stuff at existing stands.
To start with, there's a new Eutaw Street All Natural Grille, aptly named for its location on Eutaw near Gate A. It features minimally processed foods ("minimally" is a very loose term, isn't it?) with no artificial flavors or hormones and whatnot. All natural hot dogs, burgers, chicken sandwiches and beefsteak tomato sandwiches. And all-natural cookies and marshmallow bars for dessert.
Esskay Gourmet Hot Dogs will now offer a Burnt Ends BBQ dog with brisket, pickled onions and slaw on a potato roll; Bud & Burgers next door will have a "Chicken Tender Chesapeake" sandwich with chicken topped with crab dip on a potato roll.
Pizza Boli has a new "Meatball Twister" with meatballs, marinara and parmesan in a twisted bread cone; or you can go to the new Club Grille on the club level and get mac and cheese with crab meat, buffalo chicken or pulled pork in that bread cone.
The TAKO Asian Bistro now has fresh dumplings with chicken, mushroom, beef and vegetables; Baseline Burgers has chicken tenders with buffalo, Thai chili or garlic parmesan sauce.
The popular Chipper stand has a cool new option…the Pork Rinds Chipper, pork rinds with three varieties of toppings: bacon bits, shredded cheddar and cheese sauce; pulled pork, guacamole and pico de gallo; or crabmeat, Old Bay and scallions.
Fortunately, Boog's is still available…
Want to know more about Oriole Park at Camden Yards? Click here.
Boston Red Sox – Fenway Park:
The bit-by-bit evolution of America's oldest ballpark continues. The Red Sox have yanked out a portion of the awful right field grandstand seats and added "Tully's Tavern", for their new partnership with Tullamore Dew Irish whiskey. There is a full bar, stools and tables and standing room space, and big televisions to watch the game without a big pole in the way. Tickets for this section can be as low as $35 a game.
The Sox have added 120 new seats on the first and third base side, and there are new day-of-game suites on the Pavilion level that can accommodate 12 people of extraordinary means. The EMC Club is now the Dell EMC Club and the EMC level is the Dell Technologies Level. There is also a new "Strega Deck" space for parties and events; it doesn't appear that this has a view of the field. There is a new video board where the Cumberland Farms sign used to be, so fans in the center field bleachers and atop the Green Monster have a view of the stats.
The Red Sox have a new official pizza: Regina Pizzeria has replaced Papa Gino's as the Fenway Park pizza offering. The pizza stands will also have a meatball in a bread cone.
Yankee Lobster (yes, Yankee lobster…SMH) will serve their lobster rolls (which I presume means Legal Seafoods is out) at the Fish Shack on Yawkey Way and in the concourses. Savenor's Market on Yawkey now has a short rib grilled cheese sandwich. There is a third Tasty Burger location inside Fenway now.
The Big Concourse in right field will have a new stand with rotating menu items each month.
Other new food items? Canadians will like this one: the Lobster Poutine Stak is a bed of steak fries with lobster bisque, chunks of lobster meat and chives. Clever, eh? They also have a Lobster Melt grilled cheese sandwich with lobster beef, Muenster cheese and tomato, and a "Surf & Turf Kebab" with steak tips, shrimp, and peppers on a long roll. You should be able to find all of these in the Big Concourse somewhere.
And you can now build your own salad and get a kids meal with PB&J or grilled cheese sandwiches. For dessert there are new "Cookies N' Creamery" stands with sundaes, creamsicles, hard ice cream and freshly baked cookies. Hood is still the official ice cream.
Speaking of kids stuff, there are more virtual reality toys in the Kids Concourse now, like a VR batting cage where fans can feel what it's like to hit against pro pitchers at Fenway. It keeps getting better for the kids.
Want to learn more about Fenway Park? Click here.
Chicago White Sox – Guaranteed Rate Field:
The Miller Lite Bullpen Bar in the right field stands has been rebranded as the Craft Kave, and fans will be able to choose from over 75 beers from 38 breweries, many of them local to the Chicago area. And a selection of eight burgers. They'll even have someone (I can't get over how cool this is), help you make a food-and-beer-brand-pairing recommendation. Folks, this is why you need me. Can you imagine missing out on that?
Anyway, speaking of beer, the White Sox have a new official import beer…Modelo, which is based in Mexico and is an outreach to the Latino fan base for the Sox. There's a new "Casa Modelo" beer stand in left field. Miller Lite's partnership with the Sox is apparently no more.
The White Sox have created a new party suite called Suite 134, strongly hinting at the location. They'll have a food and beverage package for as many as 25 people, and some parking passes will be included in that. The Home Plate Club is now the "Guaranteed Rate Club".
And Chicago being the foodiest of foodie towns, there's some cool new stuff on the Guaranteed Rate Field menu:
The Wok-Off: Egg lo mein noodles, fresh vegetables, grilled chicken and garlic sauce. Looks like Wow Bao is gone and replaced with the Wok Off stand.
The "Heater": a Johnsonville jalapeno cheddar sausage topped with spicy cole slaw and Sriracha mayo. Might want to talk with that beer expert about this one.
South Side Burger: A burger topped with Italian beef and giardiniera. Only in Chicago.
Triple Play BBQ Sandwich: That jalapeno cheddar sausage again, this time with Vienna Beef smoked brisket and pulled pork.
Deep dish pizza: Beggars Pizza is bringing a deep dish option to avoid obvious inferiority comparisons to the Giordano's deep dish up the road at Wrigley.
The club level eateries will feature high end tacos, vegetable salads, a chicken margarita sandwich (!), "choco kebabs" and a truly marvelous 16" brisket mac and cheese grilled cheese sandwich that looks amazing. Share it though…
Want to know more about Guaranteed Rate Field? Click here.
Cleveland Indians – Progressive Field:
The Indians welcome craft beer drinkers, and they've added a new craft brewery stand…the Ohio City-based Market Garden. The Market Garden features four of their home grown brews: Progress Pilsner, Prosperity Wheat, Citramax and Hellamango India Pale Ale. (I had the Hellamango and it was fantastic.) The stand sells slider burgers in various flavors.
In addition to the Market Garden, the Hop Stop will be selling beers from several Cleveland-area breweries.
And finally, Progressive Field becomes more of a party destination with 11 suites on the third base side now converted into "pennant party" suites that can accommodate numbers from 24 to 240.
Fortunately, the Barrio nachos remain.
Want to learn more about Progressive Field? Click here.
Detroit Tigers – Comerica Park:
The Tigers took some of the wild and wacky stuff off of their novel food menu, like the queso pork rinds and bacon with deviled eggs. But they've got plenty of interesting stuff to take their place…like the Coney Dog Pizza.
Little Caesars is now offering a deep dish pizza with beanless chili sauce, mozzarella, white onions, sliced hot dogs and yellow mustard drizzled on it. Given all the wacky hot dog offerings especially in Detroit these days, it actually isn't as unusual as it sounds. Imagine a pizza Coney dog and this is just kind of like that.
The Tigers' other newest wacky dog offering is the Hawaiian dog…a dog with pineapple, ham, jalapenos, bacon bits, BBQ sauce and red onions.
More food offerings include shawarma…not just a shawarma sandwich but even shawarma nachos. It's pita chips with chicken, tomatoes, pickles, lettuce, garlic sauce and hummus. There are also bratwurst poppers with jalapeno and cheddar. They've added a Cuban sandwich to the menu as well.
The deep-fried Oreo has been replaced with a deep fried Snickers…which seems obvious. But if you want to avoid that fried stuff you can get a strawberry shortcake instead.
Want to know more about Comerica Park? Click here.
New York Yankees – Yankee Stadium:
The Yankees tore out the bleachers sections closest to the restaurant in center field (now called the 1893 Club), and replaced them with standing room areas and drink rails; the Frank's RedHot terrace overlooks the visitor bullpen and the Toyota Terrace overlooks the Yankees' bullpen. The space on top of the bar has also been revamped and is now the Masterpass Batter's Eye Deck, and there are two Budweiser Party Decks on the Terrace level.
All of the new standing options have full bars and unique menu items: The Toyota Terrace features baos with chicken, beef or mushroom; the RedHot Terrace has "Yankee Dinger" mini burgers; and the Masterpass Deck has a French onion dipped sandwich. Yum.
To go with all the cool SRO space, the Yanks now offer a "Pinstripe Pass"…just $15 gets you into the ballpark and your first drink is on them. The Yankees also now offer much lower prices on Grandstand seats for most games. Nice of them.
Gone, apparently, are Carl's Cheesesteaks and Brother Jimmy's BBQ. In their place is Jersey Mike's and Mighty Quinn's, respectively. I live near a Jersey Mike's and like their cheesesteaks, so with no disrespect to Carl's I'm okay with that. Mighty Quinn's is a BBQ mini-chain in the city and the Yankee Stadium outpost has brisket and pulled pork sandwiches, wings, "dirty fries" topped with burnt ends, and a "Brontosaurus Rib" that is smoked for 16 hours. Top it off with S'mores bread pudding.
Another new food stand is Bareburger, another New York chain that offers an alternative to Johnny Rockets (which is still available) at the Stadium. Bareburger offers healthier options like a bison burger, a black bean burger, and turkey burger, and they're all organic. The Lobel's stand that has been around since the Stadium opened now has a meatloaf burger and a grilled chicken sandwich.
Finally, the kids can work off all of this food in the new Sunrun Kids Clubhouse, on the Terrace level in the right field corner. It's shaped like a baseball field with gloves and bats to jump around on, and wiffle ball tosses and other interactive games. And it's shaded from the sun on hot days, which is definitely nice. You now have a place to bring the kids.
Want to know more about Yankee Stadium? Click here.
Tampa Bay Rays – Tropicana Field:
The Rays have put in a new layer of turf in their indoor facility, and from the pictures I've seen it looks rather nice. The Trop gets a bad rap for being indoors and carpeted, but the Rays have done a lot of great things with it.
There's a much-needed new way to get to the Trop from Tampa…the Cross-Bay Ferry. It departs from Tampa at the Pirate Water Taxi dock and drops riders off at the St. Petersburg downtown waterfront. From there fans can use a free PSTA shuttle to the game and back afterwards. It's not very conducive to, say, heading home early, but it's a great alternative to the miserable traffic that keeps many Tampa area fans home. You can park very cheaply at the Tampa dock, and it's accessible from the TECO streetcar. For more information on the ferry, visit https://crossbayferry.com.
Incidentally, I presume this means you can use that free shuttle even if you're parking in downtown St. Pete, as described in the Tropicana Field E-Guide.
The Rays already offer significant ticket discounts on weekdays; you can now get a kids ticket for just $2 on Tuesdays, and seniors can get a $15 press level ticket on Thursdays.
New food…there's now a Fish Shack with fish sandwiches, fried seafood baskets and garlic crab fries (sold!); and the Urban Dugout (from the folks at the Urban Restaurant Group) will have a stand selling a chicken and waffle cone…fried chicken with syrup in an ice cream cone. With homemade bacon jam at the bottom. Love that. They've also added a new craft beer from Green Bench called the 4-seam American Lager, and they've added more brands of wine and a stylish Bloody Mary to the drinks menu.
Want to know more about Tropicana Field? Click here.

Toronto Blue Jays – Rogers Centre:
The Blue Jays now have a partnership with StubHub Canada, making them the Official Blue Jays Third Party Ticket Seller or some such thing. StubHub will provide pricing guidelines for sellers and virtual view from seats for buyers. Not to mention downloading tickets on your smartphone and eliminating the need for souvenirs. Fortunately you can still print tickets at home.
The Jays have brought back the beer cans (presumably including the large "tallcan"), following the can-throwing incident in the wild card game playoff of 2016. The ban was temporary, apparently, and for the moment MLB and the Jays are unconcerned about it happening again.
Not too much new on the food front, as far as I can tell…nachos are still the go-to thing at the Centre. But there is a Grilli cheese sandwich, named for Jays reliever Jason Grilli, and for the moment proceeds from sandwich sales are being donated to the Jays Care Foundation, which is pretty cool. (April is National Grilled Cheese Month, not sure if that's a Canadian or American thing.)
Want to know more about Rogers Centre? Click here.
That's what I got for now…I promise the E-Guides will be updated accordingly as soon as I can. To see updates to National League parks, click here. Thanks for reading!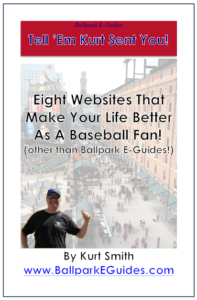 Enjoy this article? If you'd like more cool ballpark insider stuff in your inbox, sign up for the Ballpark E-Guides e-mail newsletter today…and get useful and entertaining articles about visiting your favorite ballparks, a helpful and money-saving "tip of the week", and an absolutely free PDF for traveling baseball fans…"Tell 'Em Kurt Sent You!"
Find out how to get the best live baseball experience at the best price…sign up today!