Hotwire: Great On Baseball Trips
Posted by Kurt Smith
I first discovered this great website when booking hotel rooms on a ballpark trip in 2003, and I have been using Hotwire so much ever since that paying $100 for a hotel room is something I don't even consider anymore.

I'm sure you've noticed how expensive hotel stays are these days. If you book directly through a hotel's website, you're looking at close to $100 just to stay anyplace decent, and that's not even counting the additional markup to stay in an expensive city like Boston. Years ago, before I became independently middle class, I would often stay in a Motel 6 or whatever place accepted AAA coupons.
Have you ever stayed in a Motel 6? The novelty of it may be fun. But it's basic stuff. You're kind of happy just to see the bar of soap in the shower. But there's a reason Motel 6 and Super 8 and Days Inn are so popular.
Sites like Travelocity and Expedia are nice for searching for hotels, I have no beef with them, but you're not going to get the lowest price there. In fact, in most cases you'll get a better deal just going through the hotel website.
I don't mind paying more for a nice room. I've stayed in Doubletrees and thought they were worth the few extra bucks. But if I can get that room for $45 instead of $120, I'm going for it.
Hotwire makes that possible for me.
Hotwire lists rooms that hotels have trouble occupying and are willing to offer for a discount price. You can sort hotels in your search by star rating, by a high level of positive reviews, by geographical area and by amenities. If you want a three star place with free breakfast and a pool near the O'Hare airport, and you think at least 80% of the people who review it liked it, Hotwire can find it for you.
Here's the rub: Hotwire won't give you the name or address of the hotel until you book it. But I have no problem with that. How many times are we familiar with the area we're staying in anyway? I've had less than stellar experiences staying in popular name brand hotels. There can be a world of difference between two Best Westerns (I like Best Western, just using them as an example). If 90% of the customers like the place, I figure I'll be fine.
I have gotten some absolute steals on hotel rooms through Hotwire, and it's still my favorite site for lodging. Oh, by the way, you can get inexpensive rental cars and flights through Hotwire too, and I've done very well using Hotwire for things like that too.
Full disclosure: Hotwire is an affiliate of Ballpark E-Guides. Even if they weren't I'd happily recommend them anyway, like I do with Megabus. So tell them I sent you and try it on your next baseball trip.
(Hotwire ad courtesy of Hotwire.)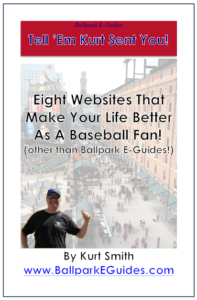 Enjoy this article? If you'd like more cool ballpark insider stuff in your inbox, sign up for the Ballpark E-Guides e-mail newsletter today…and get useful and entertaining articles about visiting your favorite ballparks, a helpful and money-saving "tip of the week", and an absolutely free eBook for traveling baseball fans…"Tell 'Em Kurt Sent You!"
Find out how to get the best live baseball experience at the best price…sign up today!