Cheaper Baseball Tickets? Try SeatGeek
Posted by Kurt Smith
It's the timeless quest of the baseball fan: to find cheaper baseball tickets.
As I'm sure you know, it's not the easiest thing to do. Baseball teams jack up the prices of the really good seats, especially teams that have become contenders of late and have increased demand for tickets. (A Ballpark E-Guide is a great big help with this, of course.)
You've also got all those surprise fees that show up when you're buying through the team or StubHub, so the listed price of the ticket is less than what you'll pay. Sometimes much less, and you get a rude and annoying surprise at the checkout screen. And it's a pain to go to the box office to avoid those fees.
Between team websites and StubHub being MLB's official ticket resale partner, they're generally the go-to outlets for buying baseball tickets. After all, they're authorized, so they seem safer. It's not easy to trust a website you've never heard of with your credit card information.
So, if there was a search engine that listed available tickets from legitimate outlets that you might not have heard of (and might otherwise have trouble trusting), you would use it, right? Or at least, would you add it to your list of sites to search the next time you're searching for some cheaper baseball tickets?
If your answer is "well, yeah, of course I would", then SeatGeek is for you.

SeatGeek is a search engine for third party ticket sellers. They feature listings from numerous online ticket outlets, like Score Big, Vivid Seats, Tickets Now and many others, including locally based ones like ACE Tickets in Boston.
With each listing of tickets, SeatGeek assigns a "Deal Score" to show the user what kind of deal they are getting on each ticket; you can sort the listings either by price or by Deal Score.
The best part? Well there's two best parts in my opinion. The first is that the outlets listing their wares on SeatGeek are likely legit. No outlet has a perfect record delivering tickets, but at least you can be reasonably certain that these won't rip you off. I've used SeatGeek numerous times and have never had a problem.
If you want to read more about whether SeatGeek is legit, check out the articles here and here. And here is an A+ rating from the Better Business Bureau. To be fair, there is this list of complaints about them, but as you can see SeatGeek is there in good faith trying to resolve any issues. If the complaints make you nervous, here's my suggestion: check the reviews of the vendor selling the tickets through SeatGeek before you purchase them.
The other "best part" about SeatGeek is knowing up front what the ticket will cost. MLB teams and StubHub charge fees that are a percentage of the ticket price, so with the better seats especially you can expect a sizable markup by the time you reach the checkout screen. There are no such surprises with SeatGeek; the price on the screen is very likely what you'll pay. (Incidentally, keep that in mind when comparing…go to the checkout screen on StubHub or the team website and see the total cost before you compare. Those fees can be large.)
Every time I'm searching for cheaper baseball tickets now (which is always), I always check SeatGeek in addition to the team website and StubHub. Very often SeatGeek is where I score the best deal. I've even gotten tickets for family members and friends and saved them a good chunk of the budget they offered me.
So the next time you're looking for cheaper baseball tickets, definitely check out SeatGeek and compare for yourself. You may find it's the best source for baseball tickets.
And make sure you use this link, because I like SeatGeek enough to have kept them as an affiliate of mine for several years now.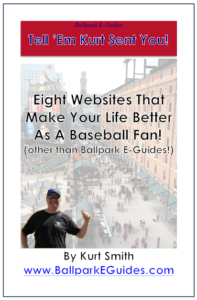 Enjoy this article? If you'd like more cool ballpark insider stuff in your inbox, sign up for the Ballpark E-Guides e-mail newsletter today…and get useful and entertaining articles about visiting your favorite ballparks, a helpful and money-saving "tip of the week", and an absolutely free eBook for traveling baseball fans…"Tell 'Em Kurt Sent You!"
Find out how to get the best live baseball experience at the best price…sign up today!