Nationals Park Seating: Two Helpful Tips
Posted by Kurt Smith
The Nationals Park seating chart features a wide range of seating and a wide range of pricing. Here are a couple of tips…one to try and one to avoid.
Nationals Park Seating Tip #1: Use The Standing Room. Yeah, I know. You don't want to stand for the whole game. I get that. I don't either. But Nationals Park, in my opinion, has probably the best standing room options in baseball for several reasons.
The first is that unlike Yankee Stadium or Fenway Park, the standing room spots aren't designated (and priced accordingly). You can pretty much choose any spot. At Nats Park, you not only have the open concourses in the lower level, but on the mezzanine in the outfield there are numerous places to sit on barstool type seating, and have a place to sit your food or beer. As far as I know, no ballpark has more places to sit and watch the game that aren't designated paid seats than Nats Park.
The second Nationals Park Seating tip is that up on that mezzanine level in the outfield is everything you need for that social scene that the millennial baseball fans love…there's a full bar with occasionally discounted brews, several lounge areas with misters for hot days, and as great a food selection as you'll find, with not only the popular Shake Shack and Box Frites, but also that Jammin' Island BBQ. If you prefer just a fun time to seeing the pitcher's facial expression, the cheapest ticket to get into Nats Park works just fine.
Finally, you have access to the Budweiser Brewhouse (formerly the Red Porch) restaurant and the covered loft on the upper level. It gets packed during rain delays, but on a nice day in the later innings you may be able to snag a table or even outdoor seating with a center field view and have a decent meal with your baseball.
If you just like to have a great time at the game, you can just pick up some very cheap Nationals tickets and have several options of where to enjoy the game. And you'll have money left over for that jerk chicken sandwich.
Nationals Park Seating Tip #2: Avoid Lower Right Field Seats. There are always some seats in a ballpark that are great in pouring rain. The only problem with that is that you're not there to watch rain.
The lower right field seats in Nationals Park are completely covered by the second deck overhang and certain sections are tucked underneath the second deck behind the bullpen. The only advantage of such seats would be being able to watch pitchers warm up, which isn't a bad thing, but otherwise you should avoid these seats.
It's not a big deal to miss the flight of fly balls, but in today's ballparks especially you'll want a view of the entire field, and obviously you'll lose a lot of it here. On top of that, you'll have no view whatsoever of the big scoreboard in right field…and this is a key thing here, because I couldn't see anywhere else where you can see who's batting or what the score is. The LED boards surrounding Nats Park show mostly ads, even during play. There are TVs in this section to keep you posted on the action, but you probably have one of those at home.
So if you have a choice, you're better off either sitting in the upper level in the infield, or in the left field seats if you'd like to be closer to the Bud Light Loft and such. But for viewing the game these are not good seats. Unless Strasburg is pitching and you want a close-up of his warm-up tosses.
That's just two tips for finding the best spot to stay for nine long innings at Nats Park; if you want the full lowdown on the whole ballpark, be sure to get yourself one of these.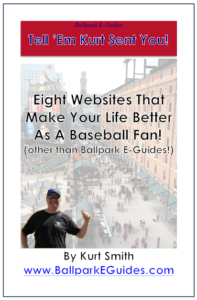 FREE eBook for traveling baseball fans! (That would be you.)

Do you love to visit ballparks and see live baseball? Subscribe to the Ballpark E-Guides e-mail newsletter today, and fill your scorecard with useful and entertaining info about your favorite ballparks, money-saving "tips of the week" for frugal fans, and of course, specials on the incredibly informative Ballpark E-Guides!
You'll also score this eBook, listing some of Kurt's favorite sites for traveling baseball fans, absolutely free of charge…just for stepping up to the plate and subscribing.
Get on base without swinging the bat…sign up today!