Cheap Blue Jays Tickets: The Fan Pass
Posted by Kurt Smith
Hey fans…as I write this, the Blue Jays have not offered the FanPass in 2017…so as cheap Blue Jays tickets go that option is out for now. But that doesn't mean they won't offer it in future seasons should attendance decline again…so I'm leaving this here for fans to keep an eye out.
OK, if you live in the Toronto area, you probably know about the Blue Jays FanPass, and if you don't live in the Toronto area, it probably won't do you much good. But I'm sharing this anyway, because it's an amazing deal.
It's not made well-known on the Blue Jays website, but the team offers a deal called a FanPass to its fans: you purchase a pass when tickets go on sale (usually sometime in January), and for a small lump sum you can go to every Blue Jays game with the exception of Opening Day.
The total price works out to less than $2 a game (if you go to all the games). This used to be sponsored by the Toronto Star newspaper, and it was a fairly popular deal at least for dedicated Jays fans.
Obviously, you won't be sitting next to Geddy Lee behind home plate. Your assigned seat will be a 500 level seat—the "SkyDeck" as the 500 level is sometimes appropriately nicknamed due to its proximity to Mars. But the 500 level isn't all that bad, and if you only go to 20 games over the course of a season, this will pay for itself handsomely.
The idea, of course, is to help fill up the ballpark with nacho-eating and beer-drinking—at baseball prices—fans at a time when the Jays fall well short of the four million a season that used to pass through the SkyDome gates.
But you can take advantage of the street meat carts and get a dog and a soda much cheaper outside, and at less than $2 a ticket, you could be looking at less than $15 a game for tickets and food. You can't even get into Yankee Stadium for $15 most games.
The Blue Jays in the terms and conditions say that the card is not to be transferred, and that "you may be required to present photo identification" at the gate. I'm guessing that means they don't want you to let other people use the pass. How strict they are on enforcement, I don't know, I've read that they check IDs randomly.
So you may have to use the FanPass yourself, but someone can buy a 500 level ticket and join you fairly cheaply. You can always stand in the outfield patio of there aren't two seats together.
After the big and expensive off-season moves the Jays made in the winter of 2013, the FanPass has been made less accessible—former FanPass holders got first dibs on renewal and there was a limited amount of them offered. Gone by Opening Day this year, I'm told.
So if you're interested in this, it's a good idea to call the Blue Jays some time in December and find out when they'll be offered and the best way to get them. The FanPass, especially for a team with a decent roster like the Jays have had, is a steal the likes of which is rare in baseball.
But hey, even if it isn't there, there are other ways to score deals on Blue Jays tickets; this handy little guide is a big help.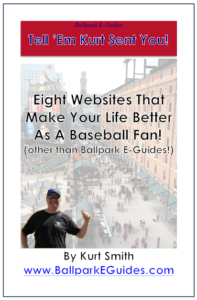 FREE PDF for traveling baseball fans! (That would be you.)

Do you love to visit ballparks and see live baseball? Subscribe to the Ballpark E-Guides e-mail newsletter today, and fill your scorecard with useful and entertaining info about your favorite ballparks, money-saving "tips of the week" for frugal fans, and of course, specials on the incredibly informative Ballpark E-Guides!
You'll also score this PDF, listing some of Kurt's favorite sites for traveling baseball fans, absolutely free of charge…just for stepping up to the plate and subscribing.
Get on base without swinging the bat…sign up today!
Save