When It Was SkyDome
Posted by Kurt Smith
The Blue Jays of 1993, who played in what was then called the SkyDome, and the Blue Jays of 2014 are similar in that the majority of either team's superstars weren't home grown talent.
Joe Carter, Roberto Alomar, Paul Molitor and several other stars on the 1993 champs were acquired from other teams, while recent Jays teams featured Colby Rasmus, Melky Cabrera, and R.A. Dickey among others, all of whom were stars before they came north. But it doesn't seem the same as it did in 1993, when everything seemed to go the Blue Jays' way.
And like the team, the perception of their home ballpark has changed too.
When the Blue Jays consistently finished atop the AL East, their ginormous brand new home had a different name— SkyDome (not "the" SkyDome, just SkyDome). It was named through a fan contest, with the winner receiving lifelong tickets to any events there.
SkyDome was seen as modern, futuristic, the spark of change in baseball venues from stadiums to entertainment centers. SkyDome influenced today's ballparks in more ways than you probably think.
(continued below)
Own the Ultimate Insider Fan's Guide to Rogers Centre TODAY…
for just $4.99!

Click the image to learn more!

Sit-down restaurants with a view and chain eateries are common in baseball venues today, but they were a novelty when SkyDome first opened. It was also the first ever venue with a working retractable roof. Today a half a dozen major league parks have opening roofs, rendering "Spahn and Sain and pray for rain" obsolete as a managing strategy.
And there was that hotel attached to the ballpark, with rooms overlooking the field—apparently without consideration that folks may tend to amorous desires in front of thousands, as some did before the hotel made guests sign an agreement not to share their wares in the window. That hasn't caught on as a ballpark feature, but it still could someday, especially in the minor leagues.
SkyDome, and its features and prices, was the future of ballparks. But just a couple of years later Camden Yards would open for business to rave reviews in Baltimore. Almost overnight, concrete and artificial turf became a serious liability with fans.
This 180-degree change in ballpark design trends coincided with the declining success of the team.
The Jays had won several AL East titles before finally taking the World Series crown in 1992 and 1993, with a team that could pitch, field and hit like few in history. The 1993 Blue Jays roster read like a who's who of baseball's biggest stars at the time: Roberto Alomar, Paul Molitor, Joe Carter, John Olerud, Juan Guzman, Jack Morris, Rickey Henderson, the list goes on.
After coming up short in the playoffs a few times, they finally came out on top of the baseball world two years in a row. One of the most iconic moments of baseball history is of Joe Carter leaping into the air running the bases following his World Series-winning home run. A packed-to-capacity crowd that night made so much noise you could barely hear the fireworks in the ballpark.
In its early years, SkyDome was filled to capacity almost every night, and for three seasons the Jays topped the four million mark in attendance, averaging a still today unheard-of 49,000+ per game. This was in the days before the Internet and StubHub…so Blue Jays tickets were extremely tough to get.
But less than a year after Carter's home run landed into the deliriously ecstatic crowd, baseball went on strike, and like many teams, the Jays' attendance crashed as fans everywhere shunned a sport that had sacrificed a World Series to the altar of palpable greed.
The Blue Jays never did bring four million through the turnstiles again, many times averaging just half that amount, especially as the 1993 stars departed and the team's win totals went downhill for several years. In their recent return to contention with a division title in 2015 and a wild card victory in 2016, they've definitely increased their numbers, but in 2016 they still only reached 3.3 million.
Perhaps it's fitting that the name of the venue has changed. Baseball is still very popular in Toronto, but looking back at the atmosphere and novelty of SkyDome, Rogers Centre almost feels like a different ballpark. It's still a fine venue in its own right and houses a competitive team, but things seem different today.
People nostalgic for the SkyDome name are no doubt also nostalgic for capacity crowds and World Series games. Any fan can appreciate that. It was a wonderful time in Toronto baseball.
More About Rogers Centre:
Visiting Rogers Centre – Five Tips For Newbies
The Best Way To Get To Rogers Centre
Rogers Centre Food: Three Things To Try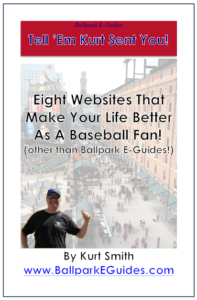 FREE eBook for traveling baseball fans! (That would be you.)

Do you love to visit ballparks and see live baseball? Subscribe to the Ballpark E-Guides e-mail newsletter today, and fill your scorecard with useful and entertaining info about your favorite ballparks, money-saving "tips of the week" for frugal fans, and of course, specials on the incredibly informative Ballpark E-Guides!
You'll also score this eBook, listing some of Kurt's favorite sites for traveling baseball fans, absolutely free of charge…just for stepping up to the plate and subscribing.
Get on base without swinging the bat…sign up today!