What To Eat At PNC Park – Some Tips
Posted by Kurt Smith
There's no shortage of choices of what to eat at PNC Park. The ballpark offers the best of all worlds in food choices…local flavor, several different kinds of sandwiches and appetizers, even several attached restaurants. There's something for everyone, if you just look around a little bit.
The PBC Club Level and Club 3000 all have fancy food offerings that may even be included with the ticket, but we'll skip all that…just know that if you can find it in the concourse area, you should be able to find it on the Club Level.
There are four bona fide, actual sit down restaurants inside or attached to PNC Park: The Hall of Fame Club is in left field, and Atria's, The Steel Cactus and Slice Pizza all have entrances on Federal Street (which is the street of the Roberto Clemente Bridge in the backdrop of the ballpark). We'll start with those.
The Rivertowne Hall of Fame Club is located behind the left field bleachers; there are several large windows and the tables closest to them have a decent view of the game. These tables are in high demand though, and there are no reservations, so get to the ballpark early if you'd like one.
The menu contains a great selection, with some baseball-themed items like "Pitcher's Mound" nachos and several local craft brews. Lots of healthy choices too; if you're a vegetarian, this is a good place for a meal at the game. The Hall of Fame Club is the only restaurant on the Federal Street side with a view of the field.
(continued below)
Own the Ultimate Insider Fan's Guide to PNC Park TODAY…
for just $4.99!

Click the image to learn more!

Atria's is a small tavern with a sit down area and a bar; along with the other restaurants there is some seating outside on Federal Street. Atria's is part of a local chain of pubs and draws mostly an adult crowd; the menu consists of sandwiches along with entrees like steak and seafood. Atria's gets pretty crowded on game days.
Slice is a small pizza shop with a menu of pizza, calzones, salads and subs. Slice has hoagies available too, even vegetarian versions. And it is pretty reasonable for the location.
Now here's a bit of what's inside the park.
Start with Pop's Plaza on the main level in the left field corner; this is where you can find some stands named after something to do with Willie "Pops" Stargell, the Hall of Fame Pirate and 1979 World Series MVP.
In the plaza is Chickie's and Pete's, the Philly favorite of crinkle cut fries with Old Bay style seasoning and cheese sauce; the Familee Bar-B-Q with grilled burgers and dogs; and the Chicken On The Hill with Quik-It brand chicken tenders and sandwiches. There is a picnic area near Pop's Plaza to sit down and enjoy the bounty.
Outside of Pop's, if you're looking for something uniquely Pittsburgh, the Smorgasburgh section of the upper level is where to find Primanti Bros. the Pittsburgh institution known for its unusual sandwiches with fries and slaw piled on. More about Primanti Bros. here.
And if you want to meet a classic former Pirate, you can head out to Manny's BBQ in the center field area, where Pirates great Manny Sanguillen signs autographs and serves BBQ pork and chicken sandwiches to customers. Manny's has popular loaded burgers, and his dishes can be had with beans and slaw on the side.
New in 2014 is BRGR, a popular local burger joint with three locations in the city. BRGR is known for fancy Angus burgers and thick milkshakes; the staple burger offering is the "Abso-Bac'n-Lutely", with bacon, lettuce, tomato and onion, and your choice of American, provolone or pepper jack cheese. They have some other fancy burgers and an express line if you just want a shake.
Around the rest of the ballpark are plenty of Federal Street Grille and North Shore Refreshment stands, which mostly focus on ballpark favorite like simple dogs and sausages. Each Federal Street stand has something unique to that stand, like Bucco burgers, so you might want to look around a bit. North Shore has some unique variations of hot dogs.
If you're looking for sides for all of this, two chains from outside of Pittsburgh have invaded the ballpark. Quaker Steak and Lube sells their famous wings in the Smorgasburgh area, and the aforementioned Chickie's and Pete's fries, the famous Philly delicacy. And if you have a sweet tooth, you have a choice of the lemon chill at Menchie's, Rita's water ice, JD's kettle corn or the venerable Dippin' Dots.
Wash it down with Budweiser products, or iconic Pittsburgh local bad beer Iron City, or one of the microbrews available at the Allegheny City or Beers of the Burgh beverage stands.
So there's a bit about what to eat at PNC Park. If you're hungry, PNC Park has you covered. The menu is pretty diverse though, so make sure you know what you're getting.
More About PNC Park:
Visiting PNC Park: Five Tips For Newbies
PNC Park Parking: Three Cheap And Smart Spots
PNC Park Food: Three Things To Try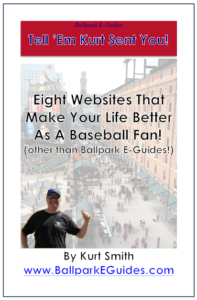 FREE eBook for traveling baseball fans! (That would be you.)

Do you love to visit ballparks and see live baseball? Subscribe to the Ballpark E-Guides e-mail newsletter today, and fill your scorecard with useful and entertaining info about your favorite ballparks, money-saving "tips of the week" for frugal fans, and of course, specials on the incredibly informative Ballpark E-Guides!
You'll also score this eBook, listing some of Kurt's favorite sites for traveling baseball fans, absolutely free of charge…just for stepping up to the plate and subscribing.
Get on base without swinging the bat…sign up today!