Visiting Citizens Bank Park – Five Tips For Newbies
Posted by Kurt Smith
If you're visiting Citizens Bank Park in beautiful Philadelphia for the first time, or if you're coming from out of town, there are definitely a few things you should know…here are five tips for a great Philadelphia ballpark experience.
Visiting Citizens Bank Park, Tip #1: Phillies website or secondary market for tickets? It depends, of course. The Cubs, Yankees and Red Sox are high demand games, as are New Jersey native Mike Trout's Angels, so you'll do better looking through the Phillies website rather than paying the third party markup for those. Fireworks nights are also very popular. When the Phillies are good they draw very well; when they are not so good and especially when they were expected to be good, deals can definitely be had on StubHub for Phillies tickets. Try my friends at SeatGeek for low demand games; I've gotten great deals through them.
Visiting Citizens Bank Park, Tip #2: Find low seats. The seats in the upper deck at Citizens Bank Park are nice and cheap if you're on a budget, and it's not that they're bad seats, but they are way up there and definitely not for the acrophobic. In my experiences I have always preferred sitting down the first base line…once you get past the infield the price isn't bad at all and you're much closer to the action. Nothing wrong with the third base side, but the view of the scoreboard isn't as good.
(continued below)
Own the Ultimate Insider Fan's Guide to Citizens Bank Park TODAY…
for just $4.99!

Click the image to learn more!

Visiting Citizens Bank Park, Tip #3: Drive to the game. The SEPTA Broad Street Subway is nice and convenient and can save you some money traveling with one or two, but it isn't the most pleasant of rides. (I've seen large rats.) There is ample parking at in the Philly Sports Complex and there are a couple of nice cheap spots, like the lot south of the Jetro warehouse. If you want to tailgate, lots south of Pattison Avenue are legal for tailgating, and the Lincoln Financial Field (Eagles) lots feature a pretty decent pregame grill scene.
Visiting Citizens Bank Park, Tip #4: Get your cheesesteak on early. There are at least four types of cheesesteaks at Citizens Bank Park, if you include the generic Cobblestone and the vegan cheesesteak at Harry The K's. But if you want one of the two kingpin cheesesteaks here…the Tony Luke's "Whiz Wit" or the Campo's "Heater", you've got to get in line in their Ashburn Alley stands early. On high attendance nights especially, lines for both stands get long and stay long all night. Oh, and don't forget the fine cheesesteaks at Delco's in the left field area…a great alternative to Tony Luke's and Campo's with meatier sandwiches!
Don't want a cheesesteak? Head for Bull's BBQ for a turkey sandwich or Bull Dog…I've never had a bad meal there. And get a Federal Donut for dessert.
Visiting Citizens Bank Park, Tip #5: Don't miss the Phanatic. He is the best mascot in sports, bar none. He shoves umpires, taunts the opposing team (and their visiting fans) rides around recklessly in an ATV and dances on the Phillies dugout. He's a riot…and Phillies fans love him.
Finally, if you want to know what to wear, so long as you're not wearing Cowboys, Giants (NFL), or Penguins gear, you'll probably be fine. If you show up at a Philly sporting event wearing a Cowboys jersey, don't blame me for what happens.
And when you really want to rock the house at the Bank for less money, get yourself one of these.
More About Citizens Bank Park:
Three Cheap Citizens Bank Park Parking Options
How I Saved $75 at Citizens Bank Park
Five Citizens Bank Park Cheesesteaks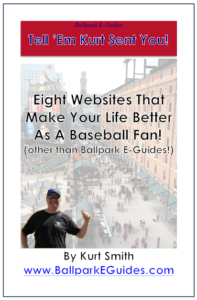 FREE eBook for traveling baseball fans! (That would be you.)

Do you love to visit ballparks and see live baseball? Subscribe to the Ballpark E-Guides e-mail newsletter today, and fill your scorecard with useful and entertaining info about your favorite ballparks, money-saving "tips of the week" for frugal fans, and of course, specials on the incredibly informative Ballpark E-Guides!
You'll also score this eBook, listing some of Kurt's favorite sites for traveling baseball fans, absolutely free of charge…just for stepping up to the plate and subscribing.
Get on base without swinging the bat…sign up today!