Three Extra PNC Park Tips For Fans
Posted by Kurt Smith
Hopefully you've found some helpful PNC Park tips on this website; if you didn't know what a Polish Hill cheesesteak was I would think it was worth your while. Here are a few more tips…things not to be missed at PNC:
Extra PNC Park Tips, #1: Classic Pirates Statues. Not many baseball teams can boast the kind of history the Pirates can–original Hall of Famer Honus Wagner (Home Plate Gate); star player and humanitarian Roberto Clemente (Center Field Gate); 1979 National League and World Series MVP Willie Stargell (Left Field Gate); and the recently added star shortstop and Yankee killer Bill Mazeroski (Right Field Gate), in his famous triumphant pose, crossing the plate after hitting the 1960 Series winning homer.
Anytime someone needs to remind himself or herself why Pirates fans are Pirates fans, they can look at huge statues of four of baseball's greatest heroes.
Extra PNC Park Tips, #2: Highmark Legacy Square. Being the home of both the Homestead Grays and the Pittsburgh Crawfords, Pittsburgh was a hub city in the days of the Negro Leagues.
The Highmark Legacy Square in left field is an indoor/outdoor museum area that pays homage to great Negro League players, like Cool Papa Bell, Satchel Paige, Josh Gibson, and Smokey Joe Williams. Players have interactive dedications, where you can watch the player's career and highlights, and there is a theater with a video narrated by Reds star Joe Morgan.
If baseball history interests you, definitely check out Highmark Legacy Square.
Extra PNC Park Tips, #3: The Left Field Rotunda. There are actually two rotundas to get to any level of PNC Park—one in full view in left field, the other hidden behind home plate.
The Rotunda in left field used to be decorated with baseball cards of Pirates throughout history, which was pretty cool, but they have been removed and now the rotunda is a place to take in a view—or several views—of the field, the Pirates Deck behind the bleachers, the club level, the downtown area past the Allegheny River, or the rest of the city.
It's not a bad standing room spot, even if standing room is a rarity at the ballpark these days. The left field rotunda is worth a walk up or down, and it's fairly convenient for moving from one level to another.
That's just a few ways to love PNC Park like you should; if you want a money-saving, tips-loaded guide to PNC Park, try looking at this.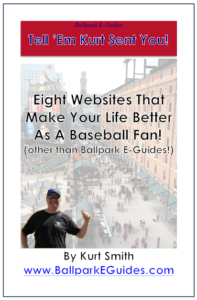 FREE PDF for traveling baseball fans! (That would be you.)

Do you love to visit ballparks and see live baseball? Subscribe to the Ballpark E-Guides e-mail newsletter today, and fill your scorecard with useful and entertaining info about your favorite ballparks, money-saving "tips of the week" for frugal fans, and of course, specials on the incredibly informative Ballpark E-Guides!
You'll also score this PDF, listing some of Kurt's favorite sites for traveling baseball fans, absolutely free of charge…just for stepping up to the plate and subscribing.
Get on base without swinging the bat…sign up today!