Citi Field Dimensions – Modern Baseball
Posted by Kurt Smith
In recent years, the Mets changed the Citi Field dimensions, moving the fences in a few feet in response to complaints from hitters. They put in an 8-foot wall in front of the 16-foot wall in left field, and the right center field fence was moved in a full 25 feet. (They painted the fence Mets blue, however, which gets a thumbs up from me.)
When I first heard that the Mets would be changing the dimensions to make the ballpark more hitter-friendly, I groaned. My first thought was "Where have you gone, Joe DiMaggio?"
Of course, if Joe Di were playing in the age of free agency, where power hitters command figures in the hundreds of millions, he probably wouldn't have stayed in Yankee Stadium–or the Yankees probably would have moved the fences in.
In DiMaggio's era, the left center field fence at Yankee Stadium was 457 feet from home plate. That's inconceivable today. Billy Martin said in his autobiography that Joe Di hit 30 or 40 450-foot outs every season, and that he would have broken every home run record ever set in another ballpark.
When Mike Hampton signed with the Rockies to pitch in Coors Field some years ago, he became a hero of mine. I love that he was willing to go where his ERA would surely double (and I believe it did). I love ballplayers that are willing to play in a ballpark where they're going to have to step up to get their stats up. Unfortunately, if it costs them a couple of million dollars, it's not likely to happen.
(continued below)
Own the Ultimate Insider Fan's Guide to Citi Field TODAY…
for just $4.99!

Click the image to learn more!

The Mets' reasoning for giving in to this reality, I suspect, is that they would have trouble attracting a power hitter free agent to the Mets if he knows his production will suffer from playing in a ballpark that is pitcher-friendly. After Jeff Francoeur left the Mets for Kansas City, he was heard calling Citi Field "a damn joke".
When the Tigers opened Comerica Park, the fences were so far from home plate that someone was quoted as saying "they don't have outfielders, they have park rangers". Power hitter Juan Gonzalez demanded the fences be moved in to resign him as a free agent. They didn't at the time, but eventually the Tigers decided that they needed to draw power hitters and moved the fences in.
I understand baseball and economic realities, but I dislike this type of thinking. What happened to tailoring your team to your home ballpark? If Citi Field is so rough on hitters, wouldn't that make it more attractive to pitchers…and fast, light hitting outfielders?
If you know that the deep dimensions of the ballpark are going to rob some home runs, why not build your team around pitching and speed? Why not go after defensive-minded outfielders with great range, proven base stealers and strong pitching, with high-average contact hitters in the middle of the lineup?
You might not score as many runs without the big hulking power hitter in the cleanup spot, but you won't be giving up as many, either. And best of all, you could put a competitive team on the field at a much lower cost. The Mets had an opportunity here, not a problem. It's just my opinion, but I think they dropped the ball.
Earl Weaver once said that while he encouraged his hitters to swing for the fences, even in fairly large Memorial Stadium, he would strategize differently if his team's home ballpark was Royals Stadium (now Kauffman Stadium). I know home runs sell, but a winning team sells more, as the Royals had been certainly proving.
This fan likes pitcher's parks. There's enough hitter-friendly ballparks out there. I like the idea of an opponent coming to Citi Field with a big bunch of power hitters who furiously slam their bats down on the ground after hitting a 400-foot out.
There aren't as many canyon ballparks as there used to be, which is a shame. Sometimes the dimensions of a ballpark change the game itself, and that's a good thing, and it would be great if there were more originality with it in baseball.
Oh, OK, in case you were wondering…as of 2017 the Citi Field dimensions are: Left Field foul pole, 335 ft.; Left-Center, 370 ft.; Center Field, 408 ft.; Right-Center Field, 370-380 ft.; and Right Field foul pole, 330 ft.
More About Citi Field:
Visiting Citi Field – Five Tips For Newbies
What To Eat At Citi Field: The Burger Dilemma
Cheap Parking at Citi Field: The Southfield Lot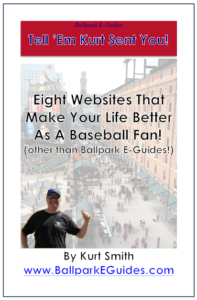 FREE eBook for traveling baseball fans! (That would be you.)

Do you love to visit ballparks and see live baseball? Subscribe to the Ballpark E-Guides e-mail newsletter today, and fill your scorecard with useful and entertaining info about your favorite ballparks, money-saving "tips of the week" for frugal fans, and of course, specials on the incredibly informative Ballpark E-Guides!
You'll also score this eBook, listing some of Kurt's favorite sites for traveling baseball fans, absolutely free of charge…just for stepping up to the plate and subscribing.
Get on base without swinging the bat…sign up today!