The Secret Stadium Sauce At Miller Park
Posted by Kurt Smith
Sausages at Miller Park are available in four varieties for varying tastes. There is the Wisconsin brat, the Italian, the Polish, and the Mexican chorizo. The four flavors are very different, but according to most accounts, the one thing that makes them all taste better is the Secret Stadium Sauce.
Secret Stadium Sauce is a Milwaukee institution, carried over from the days at Milwaukee County Stadium. It is a blend of water, tomato paste, corn syrup, vinegar, a blend of spices and capsicum. It's something like a barbecue sauce, but not quite.
The story of its creation is one of necessity being the mother of invention: close to 40 years ago, the team's concessions were running out of ketchup and mustard, so a vendor named Rick Abramson put together a concoction of ketchup, mustard, smoked syrup and barbecue sauce, slapped it all together, and became president of Delaware North Companies Sportservice. Now there's a company that recognizes genius when they see it.
(continued below)
Own the Ultimate Insider Fan's Guide to Miller Park TODAY…
for just $4.99!

Click the image to learn more!

Indeed, baseball authorities Tony Kubek and Bob Costas would trade off broadcasting duties when announcing games in Milwaukee, so they could each enjoy their brats with Secret Stadium Sauce without enduring endlessly long seconds of delay between bites.
Like the Ballpark Mustard in Cleveland, the Secret Stadium Sauce is available in local grocery stores in Milwaukee, which means that there is no shortage of it in the world-class tailgating scene of Miller Park parking lots. You can order it on Amazon too.
Condiments – bringing people together.
Want to know more about the Miller Park menu…much, much more? Get on it with one of these!
More About Miller Park:
Visiting Miller Park – Five Tips For Newbies
Miller Park Food – Three Things To Try
Miller Park Tailgating: Five Useful Tips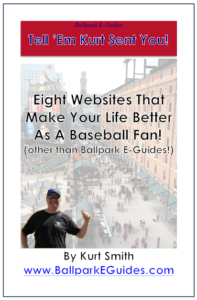 FREE eBook for traveling baseball fans! (That would be you.)

Do you love to visit ballparks and see live baseball? Subscribe to the Ballpark E-Guides e-mail newsletter today, and fill your scorecard with useful and entertaining info about your favorite ballparks, money-saving "tips of the week" for frugal fans, and of course, specials on the incredibly informative Ballpark E-Guides!
You'll also score this eBook, listing some of Kurt's favorite sites for traveling baseball fans, absolutely free of charge…just for stepping up to the plate and subscribing.
Get on base without swinging the bat…sign up today!