Three Miller Park Shuttles
Posted by Kurt Smith
Milwaukee is really into baseball, and there are at least fifty establishments in town that will help you get to Miller Park…good for saving a few bucks on parking and an inexpensive meal before or after the game. Here's a bit about a few of the popular Miller Park shuttles on Blue Mound Road:
Miller Park Shuttles, #1: J&B's Blue Ribbon. In the past I mentioned Long Wong as a decent place to go for cheap eats and a free ride to Miller Park for a Brewers game…because they had popular Bloody Marys, Chinese food, and of course, a bowling alley.
Yes, a bowling alley. Fortunately J&B's, the new owners of the establishment in the same spot, kept the bowling alley and much of the existing cafeteria feel of Long Wong's. But I will say, it looks much nicer now.
J&B's is known for bar food: burgers, wraps, "garbage fries", and pizza. They have a fish fry that people like and the pizza gets pretty good reviews. All at what is still a pretty affordable price as bar food goes, and the location is convenient for additional bar hopping on Blue Mound Road. You should be able to find a free place to park, especially if you arrive early.
And of course, they've kept the bowling alley.
(continued below)
Own the Ultimate Insider Fan's Guide to Miller Park TODAY…
for just $4.99!

Click the image to learn more!

Miller Park Shuttles #2: Kelly's Bleachers. I have to give a shoutout to Kelly's because the owners of the place were very friendly to me during my visit and seemed to dig what I do. But I'm speaking objectively when I say that Kelly's may be the most baseball-themed of all of the taverns that offer shuttles to Miller. They're also located in a good spot, almost directly off of General Mitchell Boulevard.
If you weren't actually going to the game, Kelly's would be a fine place to enjoy it anyway. There are plenty of big TVs, and the walls feature a large amount of Brewers memorabilia including the shovel that first broke the ground for Miller Park.
The nicer thing about Kelly's is that they have their own lot of about 40 spaces, and as far as I know they don't charge their customers to park there. You can park on the street in front of the place with little trouble too, but at Kelly's you can be fairly sure you'll have a spot.
And the food is pretty good; if you're ravenously hungry, you can get a 4-pound burger. Yes, you read that right.
Miller Park Shuttles #3: Rounding Third. Rounding Third isn't the fanciest place; they have a pretty nice jukebox but overall it's more of a functional bar than anything else. But it's definitely hooked up for Brewers games, with team memorabilia and drink and wing specials on game days.
Rounding Third has some unusual food items, including sloppy Joe nachos; I tried their jerk wings there and they were perfectly good and reasonable (and spicy). It's not too far from the ballpark, parking is free in their small lot and on streets nearby, and it gets packed with Brew Crew fans before and after games. A good time is had by all.
Those are three bars that will help you get to Miller Park, but there are many, many more for each taste. You can find out about a bunch more of them with this handy little guide. You can park on Blue Mound Road and find a bunch, but they're found elsewhere in the city too.
More About Miller Park:
Visiting Miller Park – Five Tips For Newbies
The Secret Stadium Sauce at Miller Park
Cheap Brewers Tickets – The Low Budget Miller Seats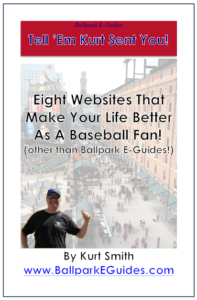 FREE eBook for traveling baseball fans! (That would be you.)

Do you love to visit ballparks and see live baseball? Subscribe to the Ballpark E-Guides e-mail newsletter today, and fill your scorecard with useful and entertaining info about your favorite ballparks, money-saving "tips of the week" for frugal fans, and of course, specials on the incredibly informative Ballpark E-Guides!
You'll also score this eBook, listing some of Kurt's favorite sites for traveling baseball fans, absolutely free of charge…just for stepping up to the plate and subscribing.
Get on base without swinging the bat…sign up today!