Miller Park Tailgating: Five Useful Tips
Posted by Kurt Smith
There is no pre-game party in baseball like the Miller Park tailgating. It's not even close. There's a decent amount of grilling in the parking lot of Guaranteed Rate Field in Chicago, and things seem to be growing at Citizens Bank Park in Philadelphia a bit. But nowhere is the tailgating every bit a baseball institution as natural grass the way it is at a Brewers game.
If you're headed to Milwaukee to see the Brewers, you should take part in it, because walking through the huge parking lots, the smell of coal and brats is going to make you ravenous.
So as a public service, I'm offering five important tips for tailgaters at Miller Park. If I miss an important one, by all means contact me and let me know, but these five should at least help you avoid a tailgating fail.
Miller Park Tailgating, Tip #1: Boil Your Brats Beforehand. The Miller Park lots open three hours before game time, which is a good amount of time for tailgating, but not a lot if you're cooking raw meat on the grill that took you a few minutes to fire up.
So get your Usinger's or Klement's brats beforehand, and boil them in beer and water the night before—a beer for every two brats, with maybe some onion and red pepper for extra taste. It takes a while—I've read an hour, but I've cooked sausages in 20 minutes, so decide for yourself.
Once you've boiled the brats to a gray color, all that will be needed is to brown them on the grill at the ballpark, which takes significantly less time in an environment where people will be finding bricks appetizing.
In fact, prepare everything you can the night before, like slicing cheese and putting food into containers or footballs in the car. Hey, I told you Brewers fans take this seriously. Being prepared for a Brewers tailgate takes some work.
Miller Park Tailgating, Tip #2: Bring Secret Stadium Sauce. OK, not everyone loves the most popular condiment in Milwaukee. It's not even necessarily for you. You can bring sauerkraut, Kopp's deli mustard, even ketchup, but a nearby tailgater might have forgotten the Secret Stadium Sauce, or you may come across a first-time visitor to Miller Park who wants to know what the fuss is about with the Sauce.
Secret Stadium Sauce is usually available in most supermarkets in the Milwaukee area; it's also available in the Team Shop, which opens when the parking lots do in case of an emergency. You can also order it on Amazon.
Don't know what the Secret Stadium Sauce is? Click here.
(continued below)
Own the Ultimate Insider Fan's Guide to Miller Park TODAY…
for just $4.99!

Click the image to learn more!

Miller Park Tailgating, Tip #3: Arrive EARLY. I've already said that Brewers fans take their tailgating seriously, and that the lots open three hours before game time. Add the two together and the sum is a long line of cars in line at most of the gates, especially for the cheaper lots. These are people itching to get their tent and grill set up and will arrive an hour before the lots open to be the first ones in.
Most people don't pre-pay to get in to the lots, so attendants are making change for most of them. Bring a book to read if you must while you're waiting, but try to get to Miller at least a half an hour before the lots open.
Miller Park Tailgating, Tip #4: Drink Miller Products, But Don't Imbibe Too Much After The First Hour. Many Brewers fans insist on Miller products vs. the Budweiser Empire that has helped fund 11 World Series titles for the division rival Cardinals. I at least would recommend taking a step up to Leinenkugel's, a Chippewa Falls brewery that is now distributed by Miller. Needless to say, have plenty of ice.
But whatever your preference, make sure that you get the majority of beer consumption out of the way early. The parking lots at Miller have an ample amount of port-a-potties to accommodate tailgaters' needs, but once that parking lot is filled with beer drinkers an hour before the game, lines will form.
And waiting in line for relief after four beers can make a minute seem like an hour. We've all been there. Don't be at Level Ten with three other people just as full in front of you.
Miller Park Tailgating, Tip #5: Put A Window Flag On Your Car. This is a common tradition at Brewers games. Not only will it help you find your car (which, if you need help with, maybe you shouldn't be driving), but you can also let people know that you're a proud fan of the Timbler-Rattlers, Harley-Davidson, or Matt Kenseth. (I know that last one is obscure. Matt Kenseth is a NASCAR driver from Wisconsin. Yes, NASCAR's still around.)
Needless to say, it should be unique…it's okay to have a Brewers flag, of course, but that won't necessarily make you stand out in the Miller Park parking lot.
Those are the five Miller Park tailgating tips that I consider most important, although obviously there's other things to know…like that the Brewers will provide a taxicab ride home if you've had too much to drink, or that AAA of Wisconsin will give you a free tow if you can't get your car started, or that you need to be careful leaving because people leave disposable grills everywhere.
Join the party in the parking lot; in Milwaukee, a ballgame is an all-day celebration.
And when you want to get the lowdown on all other things Miller Park, get yourself one of these.
More About Miller Park:
Visiting Miller Park: Five Tips For Newbies
Cheap Brewers Tickets – Low Budget Miller Seats
Three Foods To Try At Miller Park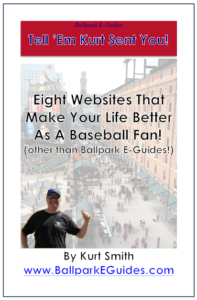 FREE eBook for traveling baseball fans! (That would be you.)

Do you love to visit ballparks and see live baseball? Subscribe to the Ballpark E-Guides e-mail newsletter today, and fill your scorecard with useful and entertaining info about your favorite ballparks, money-saving "tips of the week" for frugal fans, and of course, specials on the incredibly informative Ballpark E-Guides!
You'll also score this eBook, listing some of Kurt's favorite sites for traveling baseball fans, absolutely free of charge…just for stepping up to the plate and subscribing.
Get on base without swinging the bat…sign up today!