Cheap Brewers Tickets – Low Budget Miller Seats
Posted by Kurt Smith
If you're looking for cheap Brewers tickets, you're in luck…there are a lot of them. Miller Park has a good amount of even really good seats that are affordable, but here are two options you can get with just what's in your pocket.
Cheap Brewers Tickets, Tip #1: The Uecker Seats. The Brewers offer their fans an opportunity to see a game for one dollar, in the humorously named "Uecker Seats".
I'm dating myself with this, but I remember the Miller Lite commercial featuring "Mr. Baseball" Bob Uecker, in which he gets ousted out of his seat (to which his reaction is "I must be in the front rooooow!") and placed in the worst seats in the ballpark, where he screams at the umpire.
It was funny, and the Brewers picked up on it when they opened Miller Park in 2001, declaring the highest seats behind home plate the "Uecker Seats". These seats are blocked by pillars that hold up a portion of the ballpark's massive roof, so sitting here closer to the aisles means a partially obstructed view.
But the seats are just four quarters. You can't beat that.
(continued below)
Own the Ultimate Insider Fan's Guide to Miller Park TODAY…
for just $4.99!

Click the image to learn more!

In order to get a Uecker Seat, you have to get in line and buy them at the box office, pay cash, and enter the ballpark directly after buying the ticket. If you have a group they need to be with you.
But once you're in, you can stand just about anywhere, and many people simply move to a better seat during the game. From what I've read, the enforcement is somewhat lax on poaching a better seat, especially on a night with low attendance. But if you're not close to the aisles, the view from the Uecker Seats can be perfectly acceptable (better than in the above photo, obviously).
The only caveat with the Uecker seats I have is this: for a high demand game, and the Brewers have quite a few of them, you will need to get in line early. This means you might not be able to enjoy the tailgating, and the smell of the sausages cooking may get to you. I don't know if the bargain price of the Uecker seats is worth the time it takes to wait for them some days, but judge for yourself.
Incidentally, the Brewers just added a statue of Uke sitting in the seats named for him. A great photo-op.
Cheap Brewers Tickets, Tip #2: Bernie's Terrace. You should actually avoid Bernie's Terrace, unless, of course, you just want to get into the ballpark cheaply.
The Bernie's Terrace seats are so named for their proximity to the platform where Brewers mascot Bernie The Brewer sits. Bernie stands there during the game, waiting for a Brewer to knock one out of the park (or hit an inside-the-parker, as happened my last trip there).
When this happens, he slides down his slide onto the lower platform. It used to be into a vat of beer, but the Brewers became concerned about their image when moving into Miller Park (?) and cleaned it up a bit.
So sitting in the Bernie's Terrace sections which are Sections 441 and 442, you'd think you'd get a good close up view of Bernie sliding. Depending on where you are, you might or might not. But your real concern will be that the affable mascot's platform creates a ridiculously obstructed view.
Sitting in the upper rows of Section 442, you will lose almost half of the entire field to this. Not to mention that you will be about as far from home plate as seats get in Miller. Not a great way to watch a ballgame, so if you're serious about seeing the game, you'll want to avoid Bernie's Terrace.
The nice thing is that next to the Uecker Seats, they are the cheapest tickets in the ballpark, cheaper than standing room even. And unlike the Ueckers, which also have an obstructed view, you can get the Bernie's Terrace seats ahead of time from the Brewers' website or box office.
Many people buy the Uecker Seats or the Bernie's Terrace seats and just find a better place to sit. For lower attendance games, this is fairly easily done, so long as you don't try to sit in a Field Level seat behind home plate. But you'll have a much harder time doing this for a Cubs game or a weekend game.
You can save a lot of money buying Bernie's Terrace seats, and if it's a Tuesday night game against the Padres, you'll probably be able to find a better place to sit. Just be aware that the Bernie's Terrace area is not a great seat, even for the low price. For a weekend game against the Cubs or Cardinals, you're better off just going to the next price level up.
That's just two ticket deals at Miller Park; there are a whole lot of other ways to save a few bucks at a Brewers game. If you want to get the best value at Miller, get yourself one of these.
More About Miller Park:
Visiting Miller Park: Five Tips For Newbies
Miller Park Tailgating: Five Useful Tips
Three Foods To Try At Miller Park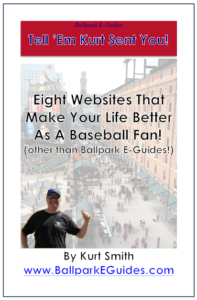 FREE eBook for traveling baseball fans! (That would be you.)

Do you love to visit ballparks and see live baseball? Subscribe to the Ballpark E-Guides e-mail newsletter today, and fill your scorecard with useful and entertaining info about your favorite ballparks, money-saving "tips of the week" for frugal fans, and of course, specials on the incredibly informative Ballpark E-Guides!
You'll also score this eBook, listing some of Kurt's favorite sites for traveling baseball fans, absolutely free of charge…just for stepping up to the plate and subscribing.
Get on base without swinging the bat…sign up today!