What To Eat At Comerica Park
Posted by Kurt Smith
When it comes to what to eat at Comerica Park, there isn't a go-to food item that draws lines long enough to miss an inning; whether that's a good or bad thing depends on your perspective. Still, there is certainly a wide selection of food and drink items available…and Comerica also has four bona fide restaurants. We'll start with them.
The Beer Hall is located in the left field corner, near the Ferris wheel. Outside it's on the corner of Montcalm and Brush Street. It's open to all ticket holders.
The Beer Hall has a very large bar with a nice selection of brews, and the menu is pub fare, mostly burgers and other sandwiches. Even though it's a bar of sorts, it's still fairly family-friendly and people do bring their kids for a meal.
The Brushfire Grill is an outdoor picnic area on the third base side of the ballpark. This is where the Ferris wheel is, so it's a popular place for families, especially on Sundays.
The menu at the Brushfire is what you'd expect at a Fourth of July cookout: burgers, dogs, and BBQ pork sandwiches from the new smoker.
Leo's Coney Island is unfortunately gone; it's been replaced with the Corner Tap Room, which is dedicated to memorializing Tiger Stadium. I haven't been there yet, but when it's open you can enter it from the outside entrance on Witherell Street. They have fried bologna sandwiches and footlong bacon-wrapped dogs, and a great selection of local brews that you can bring into the ballpark with you.
Finally, the Labatt's Blue Light Jungle is located on the upper level in right field, in the party area that includes the Pepsi Porch. The Blue Light Jungle's menu is similar to that of the Beer Hall, with burgers and sandwiches. But this being in the party area it tends to draw a more adult crowd.
OK, now on with the rest of the ballpark.
Most of the unusual food items at Comerica are found in the Big Cat Court, the huge picnic area with the merry-go-round located on the first base side of the ballpark. In the Big Cat Court you can get gourmet hot dogs or burgers, nachos, taco salads, and great sweet tooth items like elephant ears or Hudsonville ice cream.
There is still a decent selection of food around the rest of the ballpark, but the Court is a good place to go when you want a good variety to choose from without having to look around.
Around the rest of the ballpark there are many Big League Grills; these stands sell the standard ballpark dogs, brats or kielbasa if that's more your thing.
Some Big League Grills have extra unusual items, so if you look around a bit you might find something interesting. There are mobile carts selling tacos, nachos and cheesesteaks.
The pizza at Comerica is, of course, Little Caesar's, a chain owned by Tigers owner Mike Ilitch. You're probably familiar with Little Caesar's—the only difference is the price, which is jacked up to help pay those player salaries. The Hot-N-Ready already baked pizza is available, but it's much more than five bucks.
Finally, in addition to the Miller, Labatt's and other beers available, there are mixed drink carts, and several stands that sell daiquiris…which here are like adult slurpees. Expensive but tasty.
That's just a small overview of what to eat at Comerica Park…if you want to see some unusual items click here.
$214.52.
That's how much it cost a family of four to see a Tigers game at Comerica Park in 2016, according to the MLB Fan Cost Index.
Are you planning a trip to Detroit for a Tigers game? Do you want to slash that ridiculous total, AND find a great seat, parking spot, and a tasty sandwich at the game?
The Comerica Park E-Guide is your complete insider's guide to Detroit's fine ballpark, full of money-saving tips…and you can download and own it today!
Click the image below to learn more…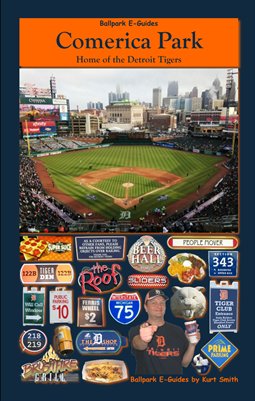 Complete Guide to Comerica Park!
Save