Comerica Park Seating – Two Helpful Tips
The Comerica Park seating chart includes everything from the suites to the rolling Tiger Den seats to the New Amsterdam 416 Bleacher Bar. All have their merits, but here are a couple of my favorites.
Comerica Park Seating Tip #1: Club Seats. I'm not sure why the Club seats in Comerica Park are called the Club seats. They may be nice seats, but there's nothing exclusive about them, and they don't include access to the Tiger Club, the Tiger Lounge or the Cigar Bar. It would be more accurate to call them No Club seats.
But they're good seats, and they're a good deal. The Club seating is on the upper deck, being the first five or so rows sections between the bases.
The first benefit of these seats is the view; they're fairly high up but they're closer to the action than seats behind them, and the view is unimpeded by traffic. The only view problem might be in the first row with the metal bar in front of you, but this isn't a big deal.
Not only will you get a fine view of the city skyline, there's some terrific views from the upper concourse too. From the first base side you can see the Fox Theatre lit up in all its glory, and you can wave to the folks on Cheli's rooftop too.
The other nice thing about the Club seats is that they're padded and a little wider, so they're a bit more comfortable than those hard metal seats that fill most of the ballpark. And like many seats at Comerica, they're not back-breaking in price. For a padded seat with a decent view, the No Club seats are a good value.
Nothing wrong with the seats on the third base side, but the first base side has a straight ahead view of the impressive Big Board, so go for that if you can.
Comerica Park Seating Tip #2: Kaline's Corner. All Tigers fans know who Al Kaline was; he was an 18-time All Star and Hall of Fame right fielder who played his entire career with the Tigers. Kaline retired with 3,007 hits and 399 home runs, making him one home run shy of the 3,000 hit, 400 home run club of only seven players.
He was also a much nicer guy than Ty Cobb, which is why he's called Mr. Tiger more than Cobb is.
The Kaline's Corner section is behind the right field foul pole, which can be slightly annoying in some seats, but they are also among the cheapest seats in the ballpark, and with the seats facing home plate, they're a better deal than the outfield box section 112 next to them, which is angled more towards the outfield.
Kaline's Corner is also close to the New Amsterdam 416 Bar, the Blue Light Jungle and other party areas, including those outfield beer kiosks that sell $5 beers, a bargain at ballgames these days.
The Tigers even sell season tickets to this section for under $1,000 for a full season plan; and they actually do sell out the first few rows. For individual games you won't get the better Kaline seats from the Tigers website, but you can often get them through StubHub or eBay for a good price.
I have read that these seats are home to some profanity from fans (I've never understood why people with lesser seats are associated with foul mouths), and they are about as far as can be from the carousel and Ferris wheel, so it may not be the best place to bring the kids.
But if you're looking for an inexpensive night at the ballgame, Kaline's Corner is as good as it gets on the Comerica Park seating menu.
$214.52.
That's how much it cost a family of four to see a Tigers game at Comerica Park in 2016, according to the MLB Fan Cost Index.
Are you planning a trip to Detroit for a Tigers game? Do you want to slash that ridiculous total, AND find a great seat, parking spot, and a tasty sandwich at the game?
The Comerica Park E-Guide is your complete insider's guide to Detroit's fine ballpark, full of money-saving tips…and you can download and own it today!
Click the image below to learn more…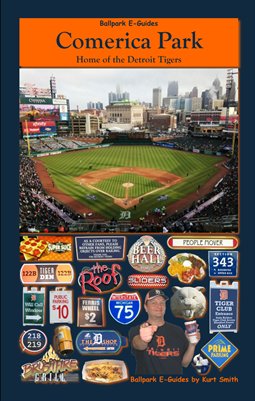 Complete Guide to Comerica Park!
Save