Comerica Park Seating – Three Suggestions
Posted by Kurt Smith
The Comerica Park seating chart includes everything from the suites to the rolling Tiger Den seats to the New Amsterdam 416 Bleacher Bar. All have their merits, but here are a few of my favorites, for varying budgets.
Comerica Park Seating Tip #1) Tiger Den Seats. The Tiger Den Seats at Comerica Park are "premium" seats, meaning they cost more but the Tigers throw some nice amenities in with it. The seats are padded, wide wooden chairs, there's a table next to your chair for food and drinks, and you can order that food to be brought to you.
The Tiger Den Seats are in the back of the lower level of the seating bowl, and they're mostly covered by the overhang, which can be a nice thing on a hot day. You also can access the Tiger Den Club and Lounge, including the private entrance.
If you do spring for the Tiger Den Seats, try something on the first base side if you can. It's got a much better view of the very impressive Comerica scoreboard, which can be blocked on the third base side.
(continued below)
Own the Ultimate Insider Fan's Guide to Comerica Park TODAY…
for just $4.99!

Click the image to learn more!

Comerica Park Seating Tip #2: Club Seats. I'm not sure why the Club seats in Comerica Park are called the Club seats. They may be nice seats, but there's nothing exclusive about them, and they don't include access to any of the clubs. It would be more accurate to call them No Club seats.
But they're good seats, and they're a good deal. Club seating is on the upper deck, being the first five or so rows sections between the bases.
The first benefit of these seats is the view; they're fairly high up but they're closer to the action than seats behind them, and the view is unimpeded by traffic. The only view problem might be in the first row with the metal bar in front of you, but this isn't a big deal.
They're also padded and a little wider, so they're a bit more comfortable than those hard metal seats that fill most of the ballpark. And like many seats at Comerica, they're not back-breaking in price. For a padded seat with a decent view, the No Club seats are a good value.
Nothing wrong with the seats on the third base side, but again, the first base side has a straight ahead view of the impressive Big Board, so go for that if you can.
Comerica Park Seating Tip #2: Kaline's Corner. All Tigers fans know who Al Kaline was; he was an 18-time All Star and Hall of Fame right fielder who played his entire career with the Tigers. Kaline retired with 3,007 hits and 399 home runs, making him one home run shy of the 3,000 hit, 400 home run club of only seven players.
He was also a much nicer guy than Ty Cobb, which is why he's called Mr. Tiger more than Cobb is.
The Kaline's Corner section is behind the right field foul pole, which can be slightly annoying in some seats, but they are also among the cheapest seats in the ballpark, and with the seats facing home plate, they're a better deal than the outfield box section 112 next to them, which is angled more towards the outfield.
Kaline's Corner is also close to the New Amsterdam 416 Bar, the Miller Lite Pitcher's Pub and other party areas, including those outfield beer kiosks that sell $5 beers, a bargain at ballgames these days.
I have read that these seats are home to some profanity from fans (I've never understood why people with lesser seats are associated with foul mouths), and they are about as far as can be from the carousel and Ferris wheel, so it may not be the best place to bring the kids.
But if you're looking for an inexpensive night at the ballgame, Kaline's Corner is as good as it gets on the Comerica Park seating menu.
That's just a few seating choices at Comerica…if you want the full lowdown on every type of seat from the Dugout Boxes to the New Amsterdam 416 Bar, get yourself one of these!
More About Comerica Park:
Visiting Comerica Park – Five Tips For Newbies
Three Foods To Try In Comerica Park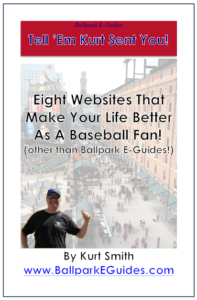 FREE eBook for traveling baseball fans! (That would be you.)

Do you love to visit ballparks and see live baseball? Subscribe to the Ballpark E-Guides e-mail newsletter today, and fill your scorecard with useful and entertaining info about your favorite ballparks, money-saving "tips of the week" for frugal fans, and of course, specials on the incredibly informative Ballpark E-Guides!
You'll also score this eBook, listing some of Kurt's favorite sites for traveling baseball fans, absolutely free of charge…just for stepping up to the plate and subscribing.
Get on base without swinging the bat…sign up today!
Save
Save