Bertman's Ballpark Mustard – The Real Deal
Posted by Kurt Smith
Even if you're getting a loaded dog, you can't pass up on Bertman's ballpark mustard.
Somehow many people, myself included, have confused the "Stadium Mustard" made by Davis Foods with the authentic, served-since-the-League-Park-days Bertman's Ballpark Mustard that goes on most hot dogs served at Progressive Field.
Joe Bertman's spicy brown mustard has been part of Cleveland since the 1920s, while the "Stadium" version was made by another company smart enough to give it a deceptive name and make it available in retail stores first.
The two are similar in taste. Both are spicy Dijon deli-style mustards, better in quality than the French's yellow usually found at the ballgame. Bertman's takes pride in not watering down their mustard and using the finest vinegar; Stadium Mustard is pretty thick too. The only difference (according to a West Side Market vendor) is that the Stadium Mustard has cayenne in it.
(continued below)
Own the Ultimate Insider Fan's Guide to Progressive Field TODAY…
for just $4.99!

Click the image to learn more!

To this day Stadium Mustard is easier to find in supermarkets and elsewhere, including in sports arenas outside of Progressive Field; I was unable to locate a bottle of Bertman's in my travels except at the West Side Market. But despite their similar tastes, Bertman's Ballpark Mustard is the real thing if you're looking for authenticity.
It's not that Stadium Mustard is bad by any means, just be sure you know what you're getting. By the way, if you want to find ou more about the very impressive menu at Progressive Field, be sure to get yourself one of these.
(Note from Kurt: I received an e-mail from someone who remained anonymous accusing me of "mustard propaganda" for this piece, which may be the funniest thing I've ever been accused of. As far as I can tell there aren't any factual errors here, but if so feel free to call me out.)
More About Progressive Field:
Visiting Progressive Field – Five Tips For Newbies
Three Foods To Try At Progressive Field
What To Eat At Progressive Field: Three More Foods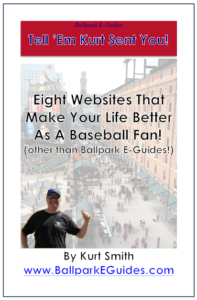 FREE eBook for traveling baseball fans! (That would be you.)

Do you love to visit ballparks and see live baseball? Subscribe to the Ballpark E-Guides e-mail newsletter today, and fill your scorecard with useful and entertaining info about your favorite ballparks, money-saving "tips of the week" for frugal fans, and of course, specials on the incredibly informative Ballpark E-Guides!
You'll also score this eBook, listing some of Kurt's favorite sites for traveling baseball fans, absolutely free of charge…just for stepping up to the plate and subscribing.
Get on base without swinging the bat…sign up today!