The Best Way To Get To Great American Ball Park
Posted by Kurt Smith
More than likely, you're going to get to Great American Ball Park by car, since public transit isn't as prevalent in Cincinnati as it is in, say, Chicago.
This is fine, though, since there are ample parking options. And as ballparks go, it is relatively easy to get to Great American, with several interstates on either side of downtown. You have inexpensive and expensive choices, and you have places to park where you can get in easily and places where you can get out easily.
There are also lots of places to leave your car in the neighboring towns of Newport and Covington, across the Ohio River in Kentucky. They aren't the closest or the easiest places to walk, but you do have the option of the Southbank Shuttle.
(continued below)
Own the Ultimate Insider Fan's Guide to Great American Ball Park TODAY…
for just $4.99!

Click the image to learn more!

The Southbank Shuttle is a trolley service operated by the fine people at the Transit Authority of Northern Kentucky (TANK). The trolley service runs from either Newport or Covington, and in most cases it passes through Cincinnati and has several stops near the ballpark. It runs frequently enough that you shouldn't have to wait long, they offer extra service for Reds games, and as of this writing it's just a buck-fifty per ride.
You can usually find cheap or even free parking in both towns (well detailed in the Great American Ball Park E-Guide!), and the nice thing is that if you plan to take in some pre- or post-game food or entertainment, you have lots of dining options and fun things to do, especially at the Newport-On-The-Levee entertainment center.
You might have reasons to park downtown for a game, and there are some good reasons to do so in certain cases. But if you're looking for inexpensive parking with minimal walking and less traffic after the game, you could do worse than parking in Kentucky and hopping on a trolley.
My only complaint is it's a bit of a rickety ride. I wouldn't recommend it for pregnant women. Then again, if your companion is carrying your offspring, you should be dropping her off at the door anyway.
That's just one way to get to Great American; there's also the street parking near the ballpark, the new Cincinnati streetcar, even the river shuttles. Pick out the best way to go for you with one of these.
TANK website: http://www.tankbus.org
More About Great American Ball Park:
Visiting Great American Ball Park – Five Tips For Newbies
Three Smart Great American Ball Park Parking Spots
Three Foods To Try at Great American Ball Park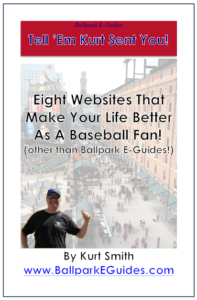 FREE eBook for traveling baseball fans! (That would be you.)

Do you love to visit ballparks and see live baseball? Subscribe to the Ballpark E-Guides e-mail newsletter today, and fill your scorecard with useful and entertaining info about your favorite ballparks, money-saving "tips of the week" for frugal fans, and of course, specials on the incredibly informative Ballpark E-Guides!
You'll also score this eBook, listing some of Kurt's favorite sites for traveling baseball fans, absolutely free of charge…just for stepping up to the plate and subscribing.
Get on base without swinging the bat…sign up today!