Three Extra Guaranteed Rate Field Tips
Posted by Kurt Smith
Hopefully this website has helped you with some decent Guaranteed Rate Field tips…I would have liked to know about that Comiskey Burger. But here are a few extras things you might like to check out while you're at the "Rate" (sigh).
Extra Guaranteed Rate Field Tips, #1: The Fundamentals Kids Zone. The Comcast FUNdamentals area is located in the left field corner…kids can play on a wiffle ball field, and learn all kinds of baseball skills completely free of charge. It's really impressive, as if the White Sox were attempting to make up for not having a kids zone for years.
It is also accessible from the upper level, so you don't have to spend for a lower level seat just to bring the kids to happy zone. Nearby is a "Rookie's Club" selling kid-sized portions of food.
(continued below)
Own the Ultimate Insider Fan's Guide to Guaranteed Rate Field TODAY…
for just $4.99!

Click the image to learn more!

Extra Guaranteed Rate Field Tips, #2: The View From The Upper Level. As mentioned before, if you have an upper level seat you aren't allowed in the lower sections. But it's not all bad, since the ramps are on the northern side of the ballpark, and at the top on a clear day you can have a fine view of the Chicago skyline. This is even worth the trip if you're sitting in the lower level to begin with.
Extra Guaranteed Rate Field Tips, #3: The Rain Room. The Rain Room in the large outfield concourse area is a throwback to the days of late White Sox owner Bill Veeck, who never ran out of ways to improve the baseball experience for fans. It is a small area where fans can duck out of the heat and have a cool mist sprayed on them. The original shower was brought over from the old Comiskey, but is only on display now as an ad for some plumbing outfit. If you want to get some odd looks, head for the Rain Room during an April night game.
There are also the player statues in the outfield, the tailgating scene before the game, and the humorous special promotions the White Sox feature, like 80s Mullet Night (OK, my past mullet isn't something I'd admit to…not for upper level tickets, anyway). All good stuff and you can get the full experience with one of these. But these are three of my favorite Guaranteed Rate Field tips.
More About Guaranteed Rate Field:
Visiting Guaranteed Rate Field – Five Tips For Newbies
Guaranteed Rate Field Seating – An Important Tip
Three Foods To Try at Guaranteed Rate Field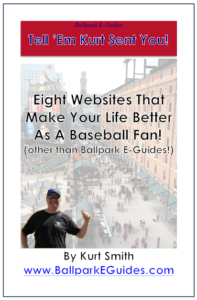 FREE eBook for traveling baseball fans! (That would be you.)

Do you love to visit ballparks and see live baseball? Subscribe to the Ballpark E-Guides e-mail newsletter today, and fill your scorecard with useful and entertaining info about your favorite ballparks, money-saving "tips of the week" for frugal fans, and of course, specials on the incredibly informative Ballpark E-Guides!
You'll also score this eBook, listing some of Kurt's favorite sites for traveling baseball fans, absolutely free of charge…just for stepping up to the plate and subscribing.
Get on base without swinging the bat…sign up today!