The First Professional Baseball Team
Posted by Kurt Smith
I've always known that Cincinnati was the home of the first professional baseball team, but until I visited the Reds Hall of Fame and Museum, it always puzzled me how the Red Stockings could be the first baseball team…because how could there be just one team? Wouldn't they need someone to play against? Did they just stand on the field practicing until another team filled out all of the legal forms? Maybe they signed the contract for their ballpark the day before the Phillies did or something?
I wouldn't say it kept me up at night, I knew there had to be an explanation, but it was just one of those things that puzzled me a bit.
But now I get it…one less thing to waste brain power pondering.
(continued below)
Own the Ultimate Insider Fan's Guide to Great American Ball Park TODAY…
for just $4.99!

Click the image to learn more!

The Reds Hall tells the story—that the Red Stockings were the first professional baseball team because they were the first team whose players were actually paid to play baseball. Other teams' owners balked at the idea of ballplayers being professionals (some things never change), but the Red Stockings were willing to pay players. And by doing so, they attracted some of the best talent around. No doubt radio show hosts in other cities began demanding that their team owners start paying players.
This all-star team of professionals went on a tour in 1869 and won everywhere they went, finishing their first ever season unbeaten and actually drawing some crowds on the road. (I think hot dogs were $1.50 back then.) This was back in the days before gloves and catcher's masks and the DH, proving that people will play baseball for money even if they're risking life and limb.
Their second season was marked by dissolution and player bickering (that didn't take long), despite that the team resumed its greatness, winning all but one game against the Brooklyn Atlantics, in an 11-inning affair. Eventually some players moved to Boston, as did the Red Stockings name—now the Red Sox, of course.
The team disbanded, and then a new Red Stockings team joined the newly formed National League in 1876. This team was banned from the National League for…get this…serving beer at ballgames. Nowadays a team might be banned from the league for not serving beer.
Finally in 1881 another Red Stockings team (they loved that name for some reason) joined the rival American Association, and in 1889 they moved to the National League, replacing the bootlegging Red Stockings team that had been booted. In the move, they changed their name to the Reds, probably to save on stitching costs.
So the current incarnation of the Cincinnati Reds that we all know today wasn't exactly the first professional baseball team, but you could argue that Cincinnati simply hit a few bumps in the road to become America's first iconic baseball town.
There is a great deal of history when it comes to Cincinnati baseball, and it's as good a place as any for a team to feature a Hall of Fame and Museum that is a microcosm of baseball's Hall in Cooperstown. The Reds Hall of Fame is definitely worth the visit if you're coming to Great American Ball Park, if only to learn how there could only be one "first professional baseball team".
But of course, there's a lot more to know about Great American. Be a smart fan and get yourself one of these.
More About Great American Ball Park:
Visiting Great American Ball Park – Five Tips For Newbies
Three Smart Great American Ball Park Parking Spots
Three Foods To Try at Great American Ball Park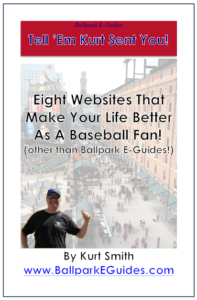 FREE eBook for traveling baseball fans! (That would be you.)

Do you love to visit ballparks and see live baseball? Subscribe to the Ballpark E-Guides e-mail newsletter today, and fill your scorecard with useful and entertaining info about your favorite ballparks, money-saving "tips of the week" for frugal fans, and of course, specials on the incredibly informative Ballpark E-Guides!
You'll also score this eBook, listing some of Kurt's favorite sites for traveling baseball fans, absolutely free of charge…just for stepping up to the plate and subscribing.
Get on base without swinging the bat…sign up today!
Want to save money on baseball tickets, parking and everything else?
If you go to baseball games, you're going to spend money…on tickets, parking, food and souvenirs, not to mention hotels and travel expenses if you're going on a baseball road trip.
I'm here to help…check out my Fan Resources page, where I share some of my favorite recommendations for buying tickets, booking baseball parking and saving on travel expenses.
Legal bit: My Fan Resources page contains affiliate links, so you can support this great website while making smart baseball decisions!