A Cheap Day At The Cincinnati Ballpark
Posted by Kurt Smith
Finding a cheap Reds ticket and other deals in my trip to Cincinnati wasn't difficult. Because of what I do, I've learned a few tricks to get the most for my dollar at the ballpark…taking advantage of special offers, giveaway nights, etc.
On my second day in Cincinnati, I hit the trifecta of bang for the ballpark buck.
I usually get the cheapest seat I can get at the game, because when I'm running around taking pictures I'm usually not sitting in that seat much anyway, and it's usually well into the game before I have an opportunity to sit. Even then, I'm restless thinking I've missed something.
So while I ordered a ticket for the Friday night game on StubHub, I decided to just buy the Saturday ticket at the box office, where there aren't any fees. There were plenty of tickets available for the game, surprisingly, so I knew it wouldn't be a problem.
Friday night I bought an Outer View Level seat for Saturday's game for $11 and no fees. Not a great seat, of course, but I didn't care. It was, as I've stated, a cheap Reds ticket.
Saturday night the Reds were giving out some fairly nice T-shirts…with "Reds" on the front in American flag colors, and Jay Bruce's name and number 32 on the back (also in U.S. flag style). Jay Bruce sponsors a group called "Bruce's Battalion", and buys tickets for members of the military for most home games.
It's a pretty nice T-shirt…would probably go for $30-35 at the ballpark, at least.
The Reds and LaRosa's Pizza also run a very popular promotion: if the Reds pitchers strike out 11 batters in a game, LaRosa's gives a free pizza to everyone at the ballpark. You read that right…LaRosa's gives away upwards of 30,000 pizzas.
(continued below)
Own the Ultimate Insider Fan's Guide to Great American Ball Park TODAY…
for just $4.99!

Click the image to learn more!

Mat Latos was on the mound for the Reds, and he sat down a bunch of swinging Mariners. The total mounted and the crowd became more enthusiastic with each whiff…eight, nine, then ten. By this point I was sitting high up in the rafters behind home plate, so I had a decent view of everything.
With ten strikeouts on the board some of the crowd started chanting "Pizza! Pizza!" every time a batter reached two strikes. At one point a Mariners hitter had two strikes on him and took a half-swing. The home plate umpire appealed to third base, who signaled safe, the batter didn't swing. He was loudly booed!
Latos did soon pull it off, and the Reds faithful of course went nuts as the scoreboard informed them that they would all receive a free pizza. Then I saw on the bottom of the board: "starting tomorrow". Unfortunately I was leaving town the next morning. Rats.
But Wade, the nice fellow running the Sharonville LaRosa's, was happy to honor the ticket, and I got my first taste of LaRosa's…which as it turns out is pretty good pizza, better than any of the well-known chains in my South Jersey neighborhood. It was a personal pie, certainly enough for one person and I was able to pile four toppings on it. And the price couldn't be beat.
I think this is a great promotion for both the Reds and LaRosa's…they could run commercials with the crowd chanting, and the "Pizza!" chant could become a Reds tradition. Then again, I'm not sure LaRosa's wants to give out 35,000 pizzas so frequently…I've heard the Reds pitching has been costing them a lot of money this season.
Regardless, it was a great score for the author of Ballpark E-Guides. For a grand total of $11, I nailed down a cheap Reds ticket, a nice Reds T-shirt, and a delicious pizza. If you want to throw in the $1 O'Doul's I drank for being a designated driver, then throw in a non-alcoholic beer for a total of $12. Probably close to $50 in value there at normal prices.
Not bad for a sport many people think they can't afford anymore. But you can if you read one of these.
More About Great American Ball Park:
Visiting Great American Ball Park – Five Tips For Newbies
Three Smart Great American Ball Park Parking Spots
Three Foods To Try at Great American Ball Park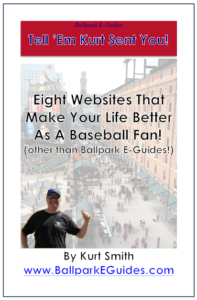 FREE eBook for traveling baseball fans! (That would be you.)

Do you love to visit ballparks and see live baseball? Subscribe to the Ballpark E-Guides e-mail newsletter today, and fill your scorecard with useful and entertaining info about your favorite ballparks, money-saving "tips of the week" for frugal fans, and of course, specials on the incredibly informative Ballpark E-Guides!
You'll also score this eBook, listing some of Kurt's favorite sites for traveling baseball fans, absolutely free of charge…just for stepping up to the plate and subscribing.
Get on base without swinging the bat…sign up today!
Want to save money on baseball tickets, parking and everything else?
If you go to baseball games, you're going to spend money…on tickets, parking, food and souvenirs, not to mention hotels and travel expenses if you're going on a baseball road trip.
I'm here to help…check out my Fan Resources page, where I share some of my favorite recommendations for buying tickets, booking baseball parking and saving on travel expenses.
Legal bit: My Fan Resources page contains affiliate links, so you can support this great website while making smart baseball decisions!