Wrigley Field Food – Three Things To Try
Posted by Kurt Smith
The Cubs may be modernizing the Friendly Confines, but they're still keeping it relatively simple on the Wrigley Field Food menu. It still begins and ends with sausages and hot dogs, but the nice thing is that you have several variations on them to choose from.
And if you're sick of hot dogs but still want something Chicago, they have a deep dish pizza from one of the very best in town.
So here's some choices on my essential list:
Wrigley Field Food Tip #1: The Wrigley Field Smokie. Wrigley Field Smokies were a popular food item many years ago, but they disappeared when Vienna Beef was no longer the hot dog provider at Wrigley. (And you thought putting in lights was an outrage.)
But now they have returned to the great delight of Cubs fans, including Carl Spackler himself (Bill Murray), who told the "Vine Line" blog that they were a favorite of his as a young Cubs fan.
The Wrigley Field Smokie is a Vienna Beef (yes, they're back) all-beef, hickory-smoked sausage with a "secret blend of seasonings", as Vienna Beef says on their website. Finally, a smoked sausage at the ballpark again.
The best part? You can get them in a local supermarket too. Great for your next Cubs-themed barbecue.
(continued below)
Are You Spending $312.32* For One Cubs Game?
*Average cost for a family of four in 2016.

You can do better. Click the image to find out how.
Wrigley Field Food Tip #2: Gilbert's Beef and Cheddar Dog. Gilbert's became the Official Sausage of the Cubs in 2016; they're made by a gang of fellows from Wheaton who believed (correctly) that crafting sausages should be as essential as crafting beer. They use all natural cheese, and no MSG or sodium nitrites. In other words, as ballpark sausages go, this is as healthy as it gets…the sausages are gluten-free even.
This beef and cheddar sandwich includes mac and cheese, bacon, caramelized onions and BBQ sauce. If you want to learn more about this one, you can read the review from my buddy Danny Rockett at Bleed Cubbie Blue. He's got a high standard for ballpark food, so you know his raves count for something.
Wrigley Field Food Tip #3: Giordano's Pizza. In 2014 Giordano's replaced D'Agostino's as the pizza provider at Wrigley Field, and with all due respect to D'Agostino's, this is a move we can all applaud.
Deep dish pizza is essential Chicago, and Giordano's is essential deep dish pizza. The chain of over 40 restaurants has been called the "best Chicago pizza" by, well, a lot of people. And rightly so. If you're visiting Chicago, Giordano's is as good a choice as any.
At most of the food stands at Wrigley you can order a 6-inch stuffed pizza, and it's filling and reasonable for ballpark prices. I would get a fork for it. They have a thin crust variation at some stands, if you're keeping some space for that footlong Decade Dog.
Deep dish pizza has been long overdue at the ballpark, especially in the Windy City. I may be critical of some of the Cubs recent changes, but this is one they got right.
That's just three truly amazing and truly Chicago food items at the Friendly Confines, but there's a whole lot more, like the Pig Candy BLT from Pork & Mindy's, the Joe Maddon Italian Hoagie, and the Italian Beef (sandwich, but don't actually say "sandwich" when you order it) from the folks at Buona. Don't miss out…get yourself one of these.
(Beef and Cheddar photo courtesy of Gilbert's.)
More About Wrigley Field:
What to Eat at Wrigley Field – Two Classic Items
Visiting Wrigley Field – Five Tips For Newbies
Three Cheap Ways to Get to Wrigley Field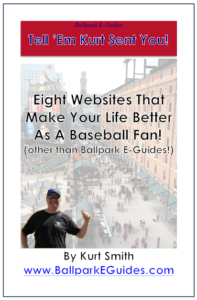 FREE PDF for traveling baseball fans! (That would be you.)

Do you love to visit ballparks and see live baseball? Subscribe to the Ballpark E-Guides e-mail newsletter today, and fill your scorecard with useful and entertaining info about your favorite ballparks, money-saving "tips of the week" for frugal fans, and of course, specials on the incredibly informative Ballpark E-Guides!
You'll also score this PDF, listing some of Kurt's favorite sites for traveling baseball fans, absolutely free of charge…just for stepping up to the plate and subscribing.
Get on base without swinging the bat…sign up today!