What To Eat at Wrigley Field – Two Classic Items
Posted by Kurt Smith
For what to eat at Wrigley Field, I've shared three choices that I recommend you try, but here are two classics that are essential Wrigley, even with the great new stuff they're bringing into the Friendly Confines.
1) What to Eat at Wrigley Field Classic #1: Chicago Dogs. Most ballparks today have some sort of local flavor: Chicago keeps it simple…you're at a baseball game, and you're in the Windy City, so you get a hot dog. And if you want it Chicago-style, you're in the right place.
Anywhere in Wrigley you can go to the condiments stand and dress your dog up in mustard and green relish. But there are now Chicago Dog kiosks that save you the trouble of going anywhere for the Chicago Dog experience.
A Chicago dog is a Vienna dog on a poppy seed bun covered with, in order: yellow mustard, chopped onions, neon green relish, pickle spear, tomato chunks, sport peppers and celery salt.
The Chicago Dog kiosks at Wrigley, like the Comiskey Dogs stand at its South Side neighbor's ballpark, get this authentically right. You get your regular or bison dog with grilled onions if you like, and then take it to the condiment zone for your neon green relish and sport peppers.
Chicago Dogs stands can be found most anywhere in the concourse area and on the bleacher patio. They give you a good-sized dog, and the bison dog is a bit healthier and tastes not terribly different. They will keep your change if you don't ask for it though, as if they expect a tip…just ask nicely and they'll give it back to you.
The lexicon of what to eat at Wrigley Field does include unusual dogs (like a Frito Pie dog—really, not making that up), but you really should go for the authentic Chicago version first. Well covered by Chicago Dogs.
(continued below)
Are You Spending $312.32* For One Cubs Game?
*Average cost for a family of four in 2016.

You can do better. Click the image to find out how.
2) What to Eat at Wrigley Field Classic #2: The North Side Twist. I get that ballpark food is expensive, but even I balked somewhat at the price of the North Side Twist. I believe it was $15.
But after seeing one of these big monsters, I understood. The North Side Twist is a HUGE soft pretzel…large enough to go into a 12" pizza box. If you're thinking you could handle this thing on your own, know that it's two pounds, not including the dipping sauces.
Ah…the dipping sauces. The cornerstone of a good soft pretzel. The sauces included with the North Side Twist are chipotle honey mustard, beer cheddar cheese, and cinnamon cream. Hearing those words alone is generally worth the price.
A North Side Twist is easily enough for two people, and you can use two thirds of it with the other sauces before going for the cinnamon cream for dessert.
The North Side Twist can be had at one of the "Blue W" stands on the lower level concourse. Sorry for not remembering which one…but it shouldn't be too tough to find. They'll have it on display in its full glory. I believe you can get it in the Bleachers as well.
Carb heaven. Or Atkins' nightmare. It's all about your perspective.
That's just two of the items at Wrigley Field worth trying…do you know about Gilbert's craft sausages, Giordano's pizza, Hot Doug's dogs or the Joe Maddon Hoagie? You would if you read one of these!
More About Wrigley Field:
Three Foods To Try at Wrigley Field
Visiting Wrigley Field – Five Tips For Newbies
Book Your Wrigley Field Parking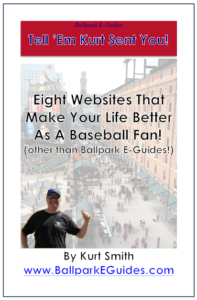 FREE PDF for traveling baseball fans! (That would be you.)

Do you love to visit ballparks and see live baseball? Subscribe to the Ballpark E-Guides e-mail newsletter today, and fill your scorecard with useful and entertaining info about your favorite ballparks, money-saving "tips of the week" for frugal fans, and of course, specials on the incredibly informative Ballpark E-Guides!
You'll also score this PDF, listing some of Kurt's favorite sites for traveling baseball fans, absolutely free of charge…just for stepping up to the plate and subscribing.
Get on base without swinging the bat…sign up today!
Save