What to Eat at Camden Yards
Posted by Kurt Smith
A few years ago Delaware North Sportservice took over the concessions at Camden Yards, and as usual they've done a super job of highlighting local fare. So when choosing what to eat at Camden Yards, Baltimore residents and visitors alike can enjoy a taste of the city.
Camden Yards now has a wide variety of food choices, and some great new features and restaurants were added. We'll start with the sit down restaurant.
Dempsey's, named for the popular O's catcher and 1983 World Series MVP Rick Dempsey, is a restaurant built into the B&O Warehouse in right field. The restaurant features brick walls, O's memorabilia, and beer taps with Dempsey's head on top of them.
The menu is pub-style and includes appetizers like crab cakes and rock fish tacos, and the main menu is mostly burgers and other sandwiches, like the Dempsey Club. Prices aren't too terribly bad for a ballpark restaurant. Dempsey's is open on non-game days.
Eutaw Street is also filled with stands and is where many (but not all) of the unique items at Camden Yards can be found.
First, of course, is Boog's BBQ, which is still the go-to food for many when celebrating an Orioles game…it's the essential "what to eat at Camden Yards in your first visit" food. If you're willing to buy a sandwich or platter from Boog, you can get in line to meet him, shake hands and get your photo taken with the Orioles' star ex-first baseman.
And the pit beef or turkey with beans and slaw is good enough that lines start forming shortly after the gates open; for a high-attendance game, you'll see smoke wafting from the Boog's tent throughout the game.
(continued below)
Are You Spending $183.34* For One Orioles Game?
*Average cost for a family of four in 2016.

You can do better. Click the image to find out how.
All of this stuff named for Baltimore athletic greats is all fine and good, you may say, but what about a taste of local Baltimore flavor? I'm glad you asked.
You can stop at one of the Old Bay Seafood stands and get that authentic Maryland crab cake, and it's a nice-sized piece of seafood (with a fairly hefty price tag). If you just want waffle fries with crab dip on them, try Freestate Fries on the lower concourse.
Around the rest of the ballpark are fancy stands that serve variations on classic ballpark staples. The O! What A Dog stands have Esskay hot dogs in their basic baseball-friendly form.
Roma Sausage stands sell (wait for it!) Roma sausages, with beer as a key ingredient to cooking the sausages. The pizza purveyor is now Seasons, a chain with about 40 stores in the northeast.
Finally, for your sweet tooth, you can either get a cone or Dippin' Dots at several kiosks, and cotton candy and funnel cakes are readily available. The O-shaped soft pretzel stand has a very tasty cinnamon sugar pretzel.
So like in most ballparks, you have plenty to choose from what to eat at Camden Yards. And best of all, much of it tastes like Baltimore. If you really want to know what to choose at the ballpark, be sure to get yourself one of these.

More about Oriole Park at Camden Yards:
Visiting Camden Yards – Five Tips For Newbies
Camden Yards Parking – Three Cheap Spots
Three More Camden Yards Food Options (Crab Stuff!)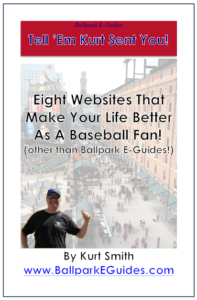 FREE PDF for traveling baseball fans! (That would be you.)

Do you love to visit ballparks and see live baseball? Subscribe to the Ballpark E-Guides e-mail newsletter today, and fill your scorecard with useful and entertaining info about your favorite ballparks, money-saving "tips of the week" for frugal fans, and of course, specials on the incredibly informative Ballpark E-Guides!
You'll also score this PDF, listing some of Kurt's favorite sites for traveling baseball fans, absolutely free of charge…just for stepping up to the plate and subscribing.
Get on base without swinging the bat…sign up today!
Save
Save