Camden Yards Food – Three Items to Try
Posted by Kurt Smith
It's tough to decide with the Camden Yards food choices. The menu changes frequently, so it's difficult to pick a consistent winner with the various choices at the ballpark. At least you can get all things crabmeat.
Here are three that work for me when I visit the Yard.
Camden Yards Food Tip #1: The Dempsey's Walk-Off. Dempsey's restaurant is located in the Camden Yards warehouse, and it's a cool place for a pre-game meal, especially with the unusual menu. It does get very crowded, though.
The Walk-Off is a Roma sausage (Roma is a Baltimore-based sausage maker) wrapped in a pretzel roll with Old Bay crab dip. It's not cheap, but it comes with kettle chips and a pickle (substitute Old Bay fries for a fee), and you can wash it down with an in-house microbrew.
It's everything baseball and everything Baltimore you could ask for in a food item.'
(continued below)
Are You Spending $183.34* For One Orioles Game?
*Average cost for a family of four in 2016.

You can do better. Click the image to find out how.
Camden Yards Food Tip #2: The Crab Mac And Cheese Dog. I hate to promote an unusual dog invented by Stuggy's after the Orioles let them out of the Camden Yards food lexicon, but maybe this will encourage you to try the Fells Point eatery and their unusual dogs.
The Crab Mac And Cheese Dog is exactly what you think it is…an Esskay dog with macaroni and cheese, with Old Bay seasoned crab meat on top. It's a challenge to keep it on a plate, and you'll need a fork to eat it.
The Crab Mac is available at the Esskay Gourmet Dogs stand on Eutaw Street, and you can find a nearby condiments table if you need more Old Bay on it.
Camden Yards Food Tip #3: Bacon On A Stick. This delicacy is becoming much more popular at ballparks nowadays…after all, you can eat it with one hand and it's bacon, two winning formulas for ballpark food. But the Eutaw Street Grill in Baltimore was the first place I saw it (and it's my job to know these things).
At Camden Yards the Bacon on a Stick is a nice slab of Hungarian smoked bacon dipped in a maple glaze and Old Bay and then seared on a grill. A nice piece of breakfast food if you're here early on a Sunday.
I believe you can get Bacon On A Stick at Dempsey's as well.
There you go; I've suggested three Camden Yards food items to try and was unable to find something without Old Bay in it. But what the heck, it's Maryland. If you want to know the full monty of Camden Yards food, get yourself one of these.
More about Oriole Park at Camden Yards:
Visiting Camden Yards – Five Tips For Newbies
Camden Yards Parking – Three Cheap Spots
Three More Camden Yards Food Options (Crab Stuff!)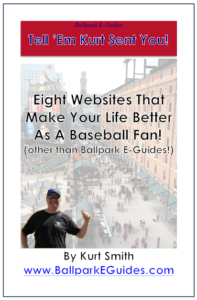 FREE PDF for traveling baseball fans! (That would be you.)

Do you love to visit ballparks and see live baseball? Subscribe to the Ballpark E-Guides e-mail newsletter today, and fill your scorecard with useful and entertaining info about your favorite ballparks, money-saving "tips of the week" for frugal fans, and of course, specials on the incredibly informative Ballpark E-Guides!
You'll also score this PDF, listing some of Kurt's favorite sites for traveling baseball fans, absolutely free of charge…just for stepping up to the plate and subscribing.
Get on base without swinging the bat…sign up today!
Save