Three Extra Camden Yards Tips For Fans
Posted by Kurt Smith
Here are a few extra Camden Yards tips for the traveling fan…
Extra Camden Yards Tips, #1: Eutaw Street. Just because it isn't on your list to get a barbecued turkey sandwich from Boog's doesn't mean you should miss Eutaw Street. Eutaw is the actual street name, but in the ballpark it is sandwiched between the Warehouse and the baseball field.
This is where the bulk of the non-ballgame attractions are; not just getting your picture taken with Boog Powell, but also snagging long balls hit in batting practice, visiting the team store, and reading the round plaques where all of the home runs landed on Eutaw.
I highly recommend entering the ballpark at one of the Eutaw Street gates in fact (except on giveaway nights); this is where you get all of your pre-game entertainment in.
(continued below)
Are You Spending $183.34* For One Orioles Game?
*Average cost for a family of four in 2016.

You can do better. Click the image to find out how.
Extra Camden Yards Tips, #2: The Memorial Stadium Dedication. Memorial Stadium was the home of the Orioles for 37 years; its replacing even with the magnificent Camden Yards still causes heavy hearts in older O's fans.
One of the striking visual features of the Memorial Stadium façade was its dedication to the fallen soldiers in the World Wars in its unusual lettering. Recently the letters in the last sentence of this dedication—"Time will not dim the glory of their deeds"—were placed near Gate C at the southern end of the warehouse. If you're an older fan, it will bring back memories.
Extra Camden Yards Tips, #3: Retired Numbers. The retired number statues are in the plaza at the north warehouse entrance, and the nice thing about it is that there aren't likely to be many additions to them soon.
There are six of them, dedicated to classic Orioles like manager Earl Weaver, pitching great Jim Palmer, and of course, consecutive games record holder Cal Ripken Jr. Most teams have their retired numbers on display somewhere, but not many have actual statues of the numbers. Worth a look.
And remember, if you want to visit the beautiful ballpark in Baltimore without striking out your wallet, get yourself one of these.
More about Oriole Park at Camden Yards:
Visiting Camden Yards – Five Tips For Newbies
Camden Yards Parking – Three Cheap Spots
Three Foods to Try at Camden Yards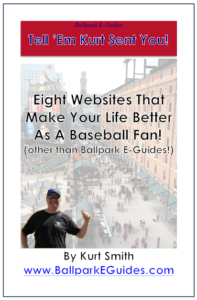 FREE PDF for traveling baseball fans! (That would be you.)

Do you love to visit ballparks and see live baseball? Subscribe to the Ballpark E-Guides e-mail newsletter today, and fill your scorecard with useful and entertaining info about your favorite ballparks, money-saving "tips of the week" for frugal fans, and of course, specials on the incredibly informative Ballpark E-Guides!
You'll also score this PDF, listing some of Kurt's favorite sites for traveling baseball fans, absolutely free of charge…just for stepping up to the plate and subscribing.
Get on base without swinging the bat…sign up today!