Best Way To Get To Fenway Park – Use The "T"
Posted by Kurt Smith
Most everyone who goes to Red Sox games has two recommendations for the best way to get to Fenway Park: don't drive, and take the "T".
Driving to and parking at Fenway Park can be done (especially with the aid of a Fenway Park E-Guide), but it can be a struggle to find affordable parking close to the ballpark, and even if you do, getting out will take some time.
In some places you're at the mercy of someone who has parked you in, never a good thing. Unless you're familiar with the area, you're much better off using the "T", as Bostonians refer to it.
The Massachusetts Bay Transit Authority (MBTA) operates several subway lines across the city of Boston proper, and they are among the cleaner and more efficient of big city transit systems.
There are four color-coded subway lines; the Red, Blue, and Orange Lines all connect with the Green Line at some point, which in turn takes riders to the Kenmore Station, a short stroll over the Massachusetts Turnpike to Fenway Park.
The Green Line has four separate routes: B, C, D and E, all of which end at different stations. All but E stop at Kenmore and will get to Fenway Park; the E train veers off north of Kenmore but stops at the Prudential Center, which is about a ten block walk to the ballpark.
(continued below)
Own the Ultimate Insider Fan's Guide to Fenway Park TODAY…
for just $4.99!

Click the image to learn more!

The D route also stops at a "Fenway" Station; this is not terribly far from the ballpark but is not the actual Fenway Park station. This may be for the benefit of Yankees fans, to wear them out before the game.
You should take the T for no other reason than to share the whole Fenway experience. On game days the Green Line becomes sardine-packed with Red Sox fans heading to Fenway, and after games trains become similarly crowded.
But this is of no nevermind to Red Sox fans, many of whom were smart enough to stay slim in order to fit into the Grandstand seats. A member of Red Sox Nation has no problem sharing a small space with a fellow member in good standing. This is also a reason for the popularity of local joints near Fenway like Cask-N-Flagon; fans need a place to wait out the post-game train crowds.
If you're looking for more spacious alternatives, you could use the E route on a nice day if you don't mind the walk, which would keep you out of the standing room only crowd that only knows to not use the E. Or you could use the Orange Line and get off at the Back Bay Station—this is a few blocks east of the Prudential Center.
That one's a hike, but you can get a good look at a beautiful city along the way. There used to be a "Ruggles Shuttle" that took riders from the Ruggles Station on the Orange Line to Fenway, but that is no longer active as of this writing. You can still use a bus from there, but you have to pay for it (or use a "Charlie Card" loaded value pass). Or (surprise!) use the much less crowded Commuter Rail to Yawkey Station, which could possibly be the second best way to get to Fenway Park.
A ride on a T train is $2.25 as of this writing (not counting a Commuter Rail ride); it's cheaper for seniors and students and free for children 11 and under riding with an adult. So a ride to the park and back is $4.50 a person, plus whatever you may pay for a park-and-ride lot (somewhere around $7).
That's the other thing that makes the "T" the best way to get to Fenway Park…it's cheap. Considering that some nearby places charge upwards of $50 for parking and the traffic you will encounter, Boston may be the one baseball city where public transportation is a better option than anywhere else, even more so than Chicago, Washington or New York.
Using your car isn't the best way to get to Fenway Park. Especially if it's your first visit, don't drive unless you have to. Use the T.
But as always, there's more than one way to get there…learn more with this.
More About Fenway Park:
Visiting Fenway Park – Five Tips For Newbies
How To Get Cheap(er) Red Sox Tickets
Can You Bring Food Into Fenway Park?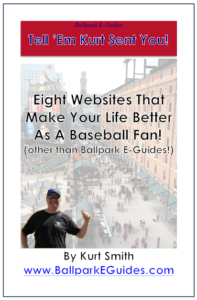 FREE eBook for traveling baseball fans! (That would be you.)

Do you love to visit ballparks and see live baseball? Subscribe to the Ballpark E-Guides e-mail newsletter today, and fill your scorecard with useful and entertaining info about your favorite ballparks, money-saving "tips of the week" for frugal fans, and of course, specials on the incredibly informative Ballpark E-Guides!
You'll also score this eBook, listing some of Kurt's favorite sites for traveling baseball fans, absolutely free of charge…just for stepping up to the plate and subscribing.
Get on base without swinging the bat…sign up today!