What To Eat At Fenway Park
Posted by Kurt Smith
So you're planning a trip to Boston and you've learned to take the T to the game; now you need to know what to eat at Fenway Park.
On the surface Fenway Park doesn't appear to have the wide variety of food choices that most new ballparks have these days, since the focus is still mainly on Fenway Franks and sausages. But in truth, you do have a lot of choices, especially in Yawkey Way and the "Big Concourse".
Yawkey Way is a street that runs east of Fenway Park; the Red Sox have it closed off on game days so that fans could enjoy an experience similar to Eutaw Street in Baltimore, with food and souvenir vendors and street performers, and also to lighten some of the notorious congestion in the concourses.
On Yawkey, there are four main vendors, in addition to peanuts and popcorn peddlers: Summertime Grille, El Tiante (featuring former Red Sox star Luis Tiant), the Fenway Fish Shack, and and a rotating stand that features a local favorite (it was "Merengue" in my last visit). You can get just about anything on Yawkey Way, from seafood choices to peanuts.
Inside the ballpark, as part of the recent renovations, the Red Sox tore up some walls behind right-center field and built in a shiny new large concourse area. The Big Concourse, as the Sox call it, is large enough to feature pregame entertainment, picnic tables and best of all, brand new bathrooms. True.
The Big Concourse also has most all of the varieties of what to eat at Fenway Park, including barbeque or deli sandwiches, kettle corn, and Dunkin' Donuts coffee. Healthy options can be found here too: wraps, Paninis (which come highly recommended by fans), watermelon, veggie dogs and burgers, even Caesar and fruit salads. If you're still in doubt about what to eat at Fenway Park, head to the Big Concourse.
(continued below)
Own the Ultimate Insider Fan's Guide to Fenway Park TODAY…
for just $4.99!

Click the image to learn more!

So if you're sick of hot dogs and sausages (which are prevalent everywhere) there are burgers, double burgers, chicken sandwiches, chicken tenders, French fries, steak tips (and turkey tips), cheesesteak sandwiches, burritos/tacos, fancy nachos, and other novelty items at every concourse area but the Big Concourse especially. You'll pay a premium for the fancy sandwiches.
Papa Gino's has been replaced as the official pizza vendor by Regina's. I haven't tried it, but it looks okay, especially for ballpark pizza. Legal Seafoods has been replaced as the purveyor of Fenway seafood stuff by…I really can't believe a Red Sox exec okayed this…Yankee Lobster. Let that sink in for a second.
For your sweet tooth, you can get: Crackerjacks, cotton candy, fried dough, funnel cakes, Hood ice cream, kettle corn, milk shakes and slushies. Try not to have them all at once. If you get up to get a beer, buy two, since you have to squeeze back into your seat. You can share if it's too much for you. Even with the improvements of late, Fenway still has some tight quarters.
Finally, if you've never been to Fenway, you'll definitely be impressed by the outside sausage vendors. They're not a great deal cheaper than the food inside like at most ballparks, but many of them, like the Sausage Connection, are of pretty high quality.
The Fenway Frank may still be the go-to "what to eat at Fenway Park" item, but you have the choice of many other culinary ballpark delicacies these days. If you want to find out more, find yourself one of these.
More About Fenway Park:
Visiting Fenway Park – Five Tips For Newbies
How To Get Cheap(er) Red Sox Tickets
Can You Bring Food Into Fenway Park?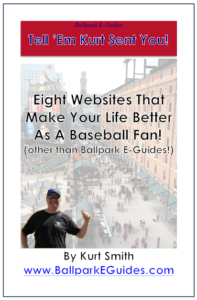 FREE eBook for traveling baseball fans! (That would be you.)

Do you love to visit ballparks and see live baseball? Subscribe to the Ballpark E-Guides e-mail newsletter today, and fill your scorecard with useful and entertaining info about your favorite ballparks, money-saving "tips of the week" for frugal fans, and of course, specials on the incredibly informative Ballpark E-Guides!
You'll also score this eBook, listing some of Kurt's favorite sites for traveling baseball fans, absolutely free of charge…just for stepping up to the plate and subscribing.
Get on base without swinging the bat…sign up today!