Take A Rickshaw To Fenway – Boston Pedicab
Posted by Kurt Smith
If you're looking for a cool or romantic way to get to Fenway Park, try those fun guys at Boston Pedicab.
As you may know, only rookies drive their car to Fenway Park, or anywhere in Boston, for that matter. Narrow streets and world-class congestion have combined to make the public transportation system pretty popular in Beantown.
But public transit has its drawbacks, especially for those using it to get to a ballgame. I can tell you from the experience of nearly having my face pressed against a window for entire Green Line rides that trains coming to and leaving games at Fenway Park get mercilessly jammed with Red Sox fans.
But I did find one way to ease some (although not all) of the hassles that go along with trying to enter or exit the Fenway Park area by car.
Boston Pedicabs is a local outfit that employs college students to pedal bicycles attached to rickshaws around the city of Boston. There are plenty of them available near Fenway, but the gentleman I e-mailed asking where best to find them (forgive me for temporarily losing the e-mail with his name) informed me that the parking lot at the Prudential Center some blocks east of Fenway is a good spot.
(continued below)
Own the Ultimate Insider Fan's Guide to Fenway Park TODAY…
for just $4.99!

Click the image to learn more!

The Prudential lot is much cheaper than the lots closest to Fenway, and the Center is basically a mall with quite a few good pregame dining options.
The fellows riding the bicycles for Boston Pedicab are friendly and will have a conversation with you as they're pedaling you through murderous traffic to the park, and you can actually look around at the city rather than waiting for the driver in front of you to finally move.
Best of all, they're free. But not really. The Boston Pedicab drivers subsist entirely on tips, so don't let me hear of anyone who reads this stiffing them.
That's just one cool way to get to Fenway…but you should really know every way to get there, because Fenway is a challenge. Find out how with one of these.
Boston Pedicabs website: www.bostonpedicab.com
More About Fenway Park:
Visiting Fenway Park – Five Tips For Newbies
How To Get Cheap(er) Red Sox Tickets
Can You Bring Food Into Fenway Park?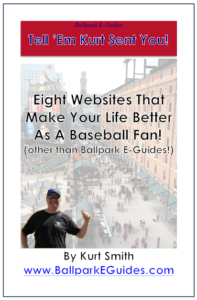 FREE eBook for traveling baseball fans! (That would be you.)

Do you love to visit ballparks and see live baseball? Subscribe to the Ballpark E-Guides e-mail newsletter today, and fill your scorecard with useful and entertaining info about your favorite ballparks, money-saving "tips of the week" for frugal fans, and of course, specials on the incredibly informative Ballpark E-Guides!
You'll also score this eBook, listing some of Kurt's favorite sites for traveling baseball fans, absolutely free of charge…just for stepping up to the plate and subscribing.
Get on base without swinging the bat…sign up today!