Three Extra Fenway Park Tips For Visiting Fans
Posted by Kurt Smith
Hopefully on this site I've offered some good Fenway Park tips…never hurts to know how to avoid those blasted support poles. These aren't essentials, but you should still check them out.
Extra Fenway Park Tips, #1: Yawkey Way. Since Camden Yards in Baltimore borrowed a lot of innovations from Fenway, like using only one city block and having a short porch necessitated by a landmark, it's only fair that the Yards return the favor.
The closing off of Yawkey Way brings to mind Eutaw Street in Baltimore, between the ballpark and the B&O Warehouse, where similar performers and vendors do their thing. In both cases, it makes for better entertainment than lottery ticket races on a Jumbotron.
You aren't likely to miss Yawkey Way anyway—it is the street that is closed off before Red Sox games and used for food vendors, street performers, the team store and all of the elements of a true baseball atmosphere. But just covering the bases.
Enter the ballpark on Yawkey Way, see the street bands, check out the peanut machines and Big League Brian on his stilts, and try a Cuban sandwich and get your picture taken with Luis Tiant. A baseball game is, after all, supposed to be fun.
(continued below)
Own the Ultimate Insider Fan's Guide to Fenway Park TODAY…
for just $4.99!

Click the image to learn more!

Extra Fenway Park Tips, #2: The Bleacher Bar. This bar/restaurant was built into the ballpark behind the center field fence, and there is actually a garage-sized window that patrons can view the game in. It's an alternative if you completely strike out getting tickets (which you shouldn't with the help of a Fenway Park E-Guide, but I'm just saying); I don't know if you can sit there for the whole game, but no ticket or cover is required, and at least you're there.
Even if you do have tickets though, it's a neat place to visit before or after the game, or perhaps even enjoy a meal at not entirely unreasonable prices. There's even a corned beef sandwich named for former Red Sox GM Larry Lucchino, who helped orchestrate the Fenway renovation.
Extra Fenway Park Tips, #3: Boston Baseball Magazine. There's nothing wrong with the Red Sox's official program as opposed to any other team's, and I mean that sincerely, but for less than half the price you can grab a copy of Boston Baseball, the Unofficial Program of the Red Sox.
Boston Baseball started as a couple of guys putting out a newsletter at ballparks; it's now a full-color, slick paper publication. And while it may be unofficial—and as such unbiased by not being on the Red Sox payroll—there isn't anything unprofessional about Boston Baseball. It's a real program and scorebook put together by dedicated fans of the Red Sox. And it is remarkably cheap. Win-win.
Support these guys. You can usually find them near the Yawkey Way entrances.
That's just three cool things about America's oldest ballpark…there's a whole lot more you should know if you're planning a visit. This will help.
More About Fenway Park:
Visiting Fenway Park – Five Tips For Newbies
How To Get Cheap(er) Red Sox Tickets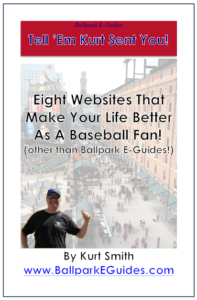 FREE eBook for traveling baseball fans! (That would be you.)

Do you love to visit ballparks and see live baseball? Subscribe to the Ballpark E-Guides e-mail newsletter today, and fill your scorecard with useful and entertaining info about your favorite ballparks, money-saving "tips of the week" for frugal fans, and of course, specials on the incredibly informative Ballpark E-Guides!
You'll also score this eBook, listing some of Kurt's favorite sites for traveling baseball fans, absolutely free of charge…just for stepping up to the plate and subscribing.
Get on base without swinging the bat…sign up today!