The Fenway Frank – As Baseball As Life Gets
Posted by Kurt Smith
The Red Sox have upped their food game of late, with adding such fancy stands such as Taste of Boston, Tasty Burgers and several great lobster items, but the Fenway Frank is still essential sustenance at Boston's venerable ballpark.
I don't understand why it's so rare to see a hot dog in a mushy white bread bun, but it's part of what makes the Fenway Frank so distinctive – that gooeyness around the classic baseball flavor.
The Fenway Frank is made by Kayem Foods, who added some garlic and smoke to the flavor when they took it over in 2009. Incidentally, Kayem also makes the dogs sold at Tropicana Field in Tampa Bay, but they claim it's a different style of dog. I would hope so.
(continued below)
Own the Ultimate Insider Fan's Guide to Fenway Park TODAY…
for just $4.99!

Click the image to learn more!

You can also get a Monster Dog, which is an elevated Fenway Frank – and is quite large at ten inches. Save some room for that.
Regarding the Fenway Franks sold in the stands, by the way, they are boiled in water as opposed to grilled on rollers like at the concession stands. I like my dogs boiled, but I think I'm in the minority on that. Either way, the Fenway Frank is the essential "Fenway Park food thing."
Incidentally, the Red Sox and Kayem celebrate National Hot Dog Day. People submit their Fenway Frank variations to be chosen as the Next Fenway Frank, and that creation gets sold at the ballpark the rest of the season.
In 2017 it was a North End Frank: a Fenway Frank topped with pesto, arugula, roasted red pepper, sun-dried tomato and fresh mozzarella. Now that's a hot dog. But the same could be said about the simple classic Fenway Frank.
Want to know about the entire food menu at Fenway? Check out this handy yet indispensable guide.
More About Fenway Park:
Visiting Fenway Park – Five Tips For Newbies
How To Get Cheap(er) Red Sox Tickets
Can You Bring Food Into Fenway Park?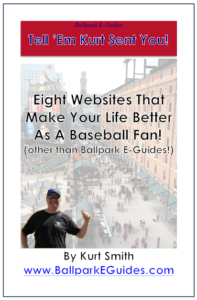 FREE eBook for traveling baseball fans! (That would be you.)

Do you love to visit ballparks and see live baseball? Subscribe to the Ballpark E-Guides e-mail newsletter today, and fill your scorecard with useful and entertaining info about your favorite ballparks, money-saving "tips of the week" for frugal fans, and of course, specials on the incredibly informative Ballpark E-Guides!
You'll also score this eBook, listing some of Kurt's favorite sites for traveling baseball fans, absolutely free of charge…just for stepping up to the plate and subscribing.
Get on base without swinging the bat…sign up today!