How I Saved $75 At Citizens Bank Park
Posted by Kurt Smith
I live in South Jersey, about a 15-minute drive from Citizens Bank Park. Recently a few of my wife's relatives visited from North Carolina, and they asked me about going to a game, since none of them had yet seen the "new" Philly ballpark.
I get nervous about things like this, since I have something of a reputation to keep. But we did fairly well.
There were five of us, and I saved us $11 each on the face price of tickets with SeatGeek ($55 total), and found them a parking spot that was $6 cheaper than the Phillies lots (and closer to the ballpark than some of them).
On the way to the game we stopped at a produce shop for a $3 bag of peanuts that was enough for everyone, so that probably saved about $9 if we had bought peanuts inside. I saved $4.50 myself on a free soda.
Inside the ballpark I was something of a tour guide, answering all of their food questions…Wayback burgers, Tony Luke's, the Schmitter, Federal Donuts, etc. There were two young ones with us that enjoyed the explanation of the neon Liberty Bell in right field.
We had great seats, in the 12th row just behind first base, and they got to try the classic cheesesteaks: the Tony Luke's with provolone and the Campo's "Heater".
A great time was had by all, followed by a very easy exit out of the parking lot back onto the highway. All for about $75 less than it normally would cost.
I'm not trying to brag here. Well okay, I am a little bit. I was pleased enough with the accomplishment that I literally considered hiring myself out as a Baseball Fan Consultant. <grin>
But think about what it costs to gather a group for a ballgame…the tickets, the parking, the food, souvenirs etc. You're probably going to do that sometime in the future, or at least be part of such a group, right? Now imagine shaving $75 off of that total cost.
What could you do with that $75 while you're in town? Get a nice souvenir, like a jersey? Enjoy a nice meal in Center City? Or even get yourself some gray sweats for the authentic "Rocky running up the Art Museum steps" experience?
Your mileage may vary, of course. But everything that I pulled out of my bag o' tricks that night…and lots of other hip smarts…are all contained in this handy little guide to the bank. You can own it now for a paltry $6.99!
That's just one case study…I will be including more in the future. But needless to say, you can save money with any Ballpark E-Guide…they're all packed to the gills with insider knowledge to make you a smarter fan no matter what the situation. Sometimes with as much as $75 left over!
More About Citizens Bank Park:
Visiting Citizens Bank Park – Five Tips For Newbies
Five Citizens Bank Park Cheesesteaks
Three Cheap Citizens Bank Park Parking Options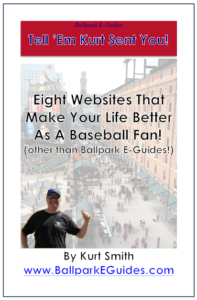 FREE eBook for traveling baseball fans! (That would be you.)

Do you love to visit ballparks and see live baseball? Subscribe to the Ballpark E-Guides e-mail newsletter today, and fill your scorecard with useful and entertaining info about your favorite ballparks, money-saving "tips of the week" for frugal fans, and of course, specials on the incredibly informative Ballpark E-Guides!
You'll also score this eBook, listing some of Kurt's favorite sites for traveling baseball fans, absolutely free of charge…just for stepping up to the plate and subscribing.
Get on base without swinging the bat…sign up today!